Once people start an online business, they struggle to manage it, sometimes there are too many variables to control.
As a result, they try to follow the traditional strategies that are used to manage physical businesses. However, in the e-commerce world, you have many more options to play with!
In this article, we will take you through the awesome tools (Free and Paid) that are offered by Google to help you take your business to the next level.
---
Google Analytics
Tracking helps you understand your customer better which can help you set up more targeted campaings, improve sales, and provide value able insights to give the edge over the competition!
Google Analytics is a service by Google that can provide you with valuable real-time infromation about your traffic flow, your sales channels, your goal conververtions and much more!
Why Google Analytics
It is FREE and easy to install! Used by both small and large websites, including the websites of Fortune 500! Works for both websites and mobile apps. It can give you an insight into the mind of your consumer and how they behave.
You can visualize data in REAL-TIME! And see exactly what actions you should prioritise, where should you spend more money and who your target audience should be. Do industry benchmarking, to see how you are doing compared to the other players in the industry.
How to use Google Analytics
When you create an online store with Jumpseller, your store is set up with our tracking, however, if you wish to add tracking by Google Analytics, you have to do it manually by adding your Tracking ID/Measurement ID.
First, you need to create an account with Google Marketing Platform. If you already have one, simply login.

After you have an account, you can click on Analytics from your Dashboard, under My products. Or click this link to open your Google Analytics Page.

From here, navigate to the bottom left of the page to find the Admin button.

In order to get your Tracking ID/Measurement ID you need to have a property with the Google Analytics 4 version, you can click on Create Property in the middle section of the admin menu.

Fill out the relevant details and once the property has been created you should see your Tracking ID/Measurement ID, if not, you can simply navigate to the Admin button, and from the Property section (Middle), click on Data Streams.

Next, please click on your property that was created, and you will have the Tracking ID/Measurement ID.

Go to your store Admin Panel in Jumpseller, and from the sidebar go to Settings > General. If you scroll down a little, you will come across the following:

Next, paste Tracking ID/Measurement ID and Save.

Real-time information about your traffic flow After completing this setup, you will now have valuable real-time information about your traffic flow, your sales channels, your goal conversions and much more!
This information is based on the default events sent when a customer visits a page in the merchants' website plus the following event: view_item, view_item_list, begin_checkout, purchase, search and add_to_cart.
Adding Referral exclusions
If you want to restrict certain websites/domains from showing up on the referral metrics, you can use the Referral Exclusions. Traffic from the domain entered in the referral exclusions list and any subdomains are excluded! You can do this by following these steps:
Sign in to your Analytics account.

Click Admin.

In the ACCOUNT column, select the Analytics account that contains the property you want to work with.

In the PROPERTY column, select a property.

Click Tracking Info.

Click Referral Exclusion List.

To add a domain, click +ADD REFERRAL EXCLUSION.

Enter the Domain name.

Click Create to save.
For more information on Referral Exclusions visit: Google - Referral Exclusions
Going through the Basics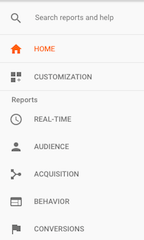 ---
Home
Log on and see the dashboard (HOME), get an overall picture of the Users in the past days, check the revenue graphic, you can also see the conversion rate and the total sessions.

It even lets you see what time of the day you have the most traffic and the number of Active Users.
Customization
If you go to the CUSTOMIZATION section, you can create a new dashboard with custom readings for specific properties you own.

This can really help you organize all the data available on Google Analytics and summarize it in one place so you can easily cover it during a meeting or a presentation. Create these custom reports and save them.
Real-Time
Then you have REAL-TIME, it is what basically the name states, you have a real-time view of your website, the number of active users, where are they coming from (Top Locations), what pages are they viewing.

It tells you the pageviews per minute and per second, you can see the top active pages there. If you have set up keywords, you can also see the Top Performing ones, that way you know which searches to prioritize.

Check if a certain promotion is actually driving traffic to your website, analyze the immediate effects of a blog/email/social media post on traffic.
Audience
AUDIENCE section gives you in-depth data and stats about your Traffic. You can see the day by day user numbers, you can view it according to a particular country.

You have the ratio of returning visitors as compared to the new visitors. Compare the data with previous periods, use different metrics to compute the numbers and you can even look at the customer lifetime value, which can tell you how much you make from a single customer.

You can view the Demographics of the traffic such as Age and gender, to find out to whom your content, the product, is appealing to, and create a marketing strategy to target them specifically.

See what they value most and shape your channels according to that value offering.
Acquisition
The ACQUISITION section tells you by what channels you are acquiring customers. Whether most of your customers are arriving from organic searches, coming from paid advertising, social media platform or other sources.

Click on each channel and view the subcategories, for example you can go into social, and you will see a list of all your social platform such as Facebook, Twitter, Reddit and Quora etc, you can view them one by one or collectively to analyse if you are getting enough traffic from them or if there is room for improvement.

Set up goals: a goal does not have to be a purchase, of course, that is the end goal, but you can set up smaller goals that lead up to a bigger goal. For example, you can set you Goal 1 as people signing up for your newsletter or registering to your store and then Goal 2 can be more towards making a sale.

See the source of where the users are coming from, for example, the browser (Bing, Google, Yahoo etc). Check if you are getting any referrals, maybe you can spend some time on the referring platforms to get more sales.

Then you have the Google Ads section, where you can view the performance of any paid ads campaigns you have. Of course, you can always check them in the Google Ads console as well.
Behavior
In the BEHAVIOR section, you get to know what the users on your website are doing. It is a good way to self-evaluate your work, you can see what areas of your website you need to improve and what is doing well.

This is where you work on enhancing your user experience, you need to be fully aware of what content is attracting the users and how that can be improved.

Analyze which pages are not getting visits on your website. You can look at things like Average Time spent on a particular page, the Bounce rate which is the number of people who leave the page within seconds. Rectify these issues and with these improvements, you should soon be able to see a difference in the performance of your website.

The experiment section is an interesting way to conduct A/B testing: if you want to change the theme of your store, you can actually test it out with your current theme to see which one gives better results.
Conversions
In the CONVERSIONS section, you learn about your sales and yes, you guessed it, "conversions"! Learn about the products your visitors are buying the most, the revenue generated by them, you can even view the details of each transaction; Tax, shipping, and the number of days it takes to complete the transaction and make the purchase.

You get to learn which of your products get you the most business and the greater profit and then you can focus your marketing efforts accordingly.

You can decide if it is better to offer special discounts or limit to a minimum quantity for particular products to cater to the tax rates or shipping costs.
Search and Sales Funnel Reports
Have you ever wondered what kind of products are your customers searching for when visiting your store? Learn how to get a Search Report on Google Analytics when using Jumpseller(You can also see the 10 most searched terms and 10 most searched terms without results, for the past month, by going to your Jumpseller Dashboard)
Creating a sales funnel in Google Analytics is an excellent strategy to analyze how your customers are behaving throughout the purchasing process. This will allow you to take action, improve each step and make sure you keep your customers buying from you. Learn how to use Google Analytics to configure a Sales Funnel with your Online Store
Analytics discrepancies
After setting up your google analytics account with your website, you may start seeing some differences between the values on the Jumpseller Dashboard and on Google Analytics.
The main mismatch is related with the number of visits to the website, as usually the number on our platform will most likely be higher then on Google Analytics. This is because, while our internal system can count every session without being blocked, Google Analytics isn't able to register as accurately, since it can be blocked by the visitors' adblockers (the visitors may also hinder it by not accepting the cookies or Javascript).
Also, as a recent example, the iOS 14 privacy update made by Apple (which allowed users to deny or allow being tracked, for advertising purposes, by each app on their phone), can also negatively impact the data that is collected from visits to be website made by iPhone users.
These were the basic concepts of Google Analytics, if you wish to learn more about it, you can do free online courses.
---
Google Tag Manager
Google Tag Manager is a solution created to manage tags in a user-friendly way. Tags mean custom images and HTML as well as Javascript snippets from many services. It can be used for your website and/or mobile app.
No need to call the developers, neither to directly update code on your website. You can use this solution to manage all your website tags, anything from conversion tracking, to site analytics and more.
In Addition, Google Tag Manager works really well with Google Analytics, you can use features like Google Ads Conversion Tracking and Remarketing, and DoubleClick Floodlight.
How to use Google Tag Manager
With the Jumpseller Google Tag Manager app, you can easily integrate your Jumpseller store with the Google Tag Manager itself. This reduces errors and frees you from having to involve a developer whenever you need to make changes.
To learn how to use Google Tag Manager with your Jumpseller store, please follow the steps in this Guide: How to Set Up Google Tag Manager.
---
Google Workspace
Having a corporate email is always a professional look and it is these small details that sometimes help close a deal and leave a lasting impression on a person. Google Workspace is a platform for hosting custom emails for your business, with a centralized administration console.
Google Workspace has many advantages, besides improving your experience in the already well-known Google free tools like Gmail, it helps you connect and manage your employees within the company, you can store files using Google Drive, and multiple people can work on them together to accomplish goals.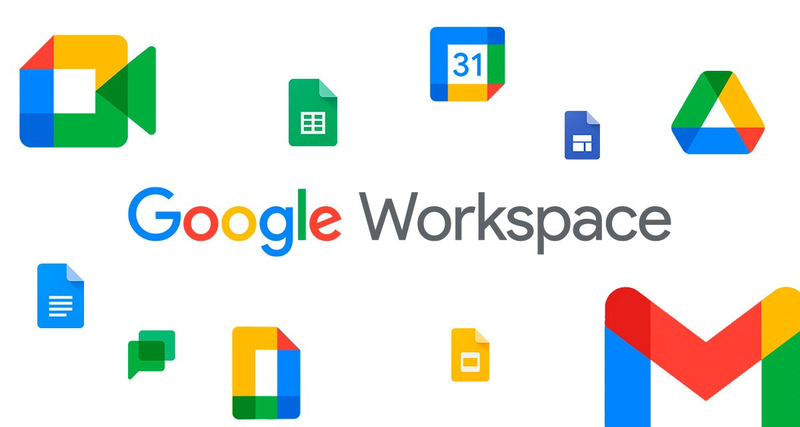 The downside of this service is that it is paid, so once you sign up, you will have to pay to get the custom corporate email and the rest of the perks. However, it's easily the simplest platform to configure and the best solution to avoid having problems with spam filters for your initial emails.
Looking at the benefits, we would say it is a must-have for a growing business.
How to Use Google Workspace
With a Jumpseller store, you have a few options to create a corporate email, Google Workspace is one of them. Setting up Google Workspace with your store involves following a series of steps which are best explained in this Guide: Setting up Google Workspace.
---
Understanding Google Ads
Perhaps the most popular Google tool for online businesses, big and small, is Google Ads (previously know as Google Adwords). Even though it is a form of paid advertising, it is used by both big and small businesses.
Google Ads is an online advertising tool that helps businesses connect with their customers. You create your online ad, tell Google Ads who you want to reach, and Google Ads brings your ads to them. With Google Adwords you have a lot of possibilities:
You can reach customers while they are doing relevant searches on Google.

You can reach users on YouTube and many other sites across the internet.

You can show your ad on millions of sites across the internet, including top rated sites.
Google Ads has a sophisticated targeting system that helps you show your ads to the right people, in the right place, at the right time. Use keywords, location, demographics, and more to target your campaigns. Google Ads gives you complete control over your budget.
You choose how much you spend per month, per day, and per ad. There is no minimum. Google Ads shows you how many people see your ads, what percentage of them click to visit your website, and even how many clicks to call you.
With these tracking tools, you can even see the actual sales your website is generating as a direct result of your ads. If you want to change your strategy, you can tweak your ads, try new keywords, or pause your campaign and restart it whenever you like.
How to Use Google Ads
The first thing you need it to Sign Up for Google Adwords and to do this you need to have (create) an account for your business. Enter your Business email and your website address. You have the option to ask for personalized tips and recommendations from Google to improve ad performance.

Next, your account will be created for Google Adwords after you enter the data in all the fields.

Now start setting up your First Adwords Campaign. The First thing you do is enter a budget, and any value you enter, you will get a calculation for Google based on that value. You will know the daily potential reach of the ads.

Next, you have to define the location, networks and the most important, Keywords. Make sure your keywords match the terms your potential customers would use to find your products/services. You can go for general keywords if you want to reach more people, or you can go for specific keywords to target specific people. To learn more about keywords read this Guide: Basic Guide For Keywords

The final step to complete the process is to enter the payment details, here you can also see the ad that you created and which will appear during the course of your campaign.
For more information regarding Google Adwords visit: https://support.google.com/adwords/answer/6366720?hl=en&ref_topic=6375057
---
Google Shopping
Google Shopping, is a Google service which allows users to search for products on online shopping websites and compare prices between different vendors.
If you are a retailer, you can use Shopping campaigns to promote your online and local inventory, boost traffic to your website or local store, and find better-qualified leads.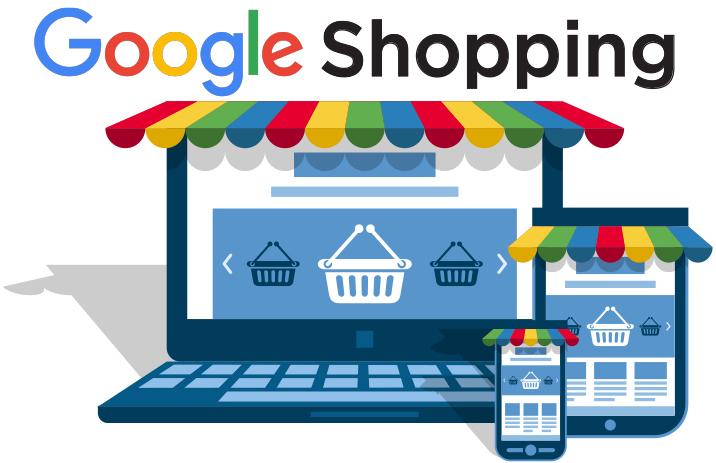 Google Shopping App benefits include:
Connecting your Store with Google Merchant Center easily.

Automatically sync all your products or as many categories as you want with Google Merchant Center.

You can reach users on YouTube and many other sites across the internet.
Shopping ads use your existing Merchant Center product data (not keywords) to decide how and where to show your ads. The product data you submit through Merchant Center contains details about the products you sell.
Google will use these details when it matches a user's search to your ads, making sure to show the most relevant products. You manage your Shopping ads in Google Ads using Shopping campaigns, a simple and flexible way to organize and promote your Google Merchant Center product inventory within Google Ads.
You can advertise your store and your products using two types of Shopping ads:
Product Shopping ads: These are created based on the product data that you submit to Merchant Center.

Showcase Shopping ads: Create these in Google Ads by grouping related products together. That way people can compare several of your products and click the right one.
How to Use Google Shopping
Jumpseller stores comes with an integrated Google Commerce App that interacts with Google Shopping. Learn more about How to Set up the Google Commerce App.
---
Google Search Console
With Google Search Console you have access to the awesome free service offered by Google that helps you monitor and maintain your site's presence in Google Search results and index your website faster and more accurately.
As a first step, please go to Webmaster Tools and Sign In with your account.


On the Search Console home page, click the ADD A PROPERTY button and type the URL of the site or portion of the site for which you want data. Specify the URL exactly as it appears in the browser bar, including the final "/" mark.

Note: If your site supports multiple protocols (http:// and https://), you must add each as a separate site. Similarly, if you support multiple domains (for example example.com, m.example.com, and www.example.com) you must add each one as a separate site.

Enter the URL of exactly the domain, subdomain, or path branch for which you want to get data. It is recommended to create a separate Search Console property for each domain or folder that you want to track separately, as well as the lowest level domain that you own.
Verify a Domain with Google Search Console
Once you have added a property to the Google Search Console, the next step is to verify that property to prove that you own the site. With Jumpseller, all Google Services that require Domain Verification, can be verified by the following methods:
Meta tag
TXT record
CNAME record
Google Analytics
Google Tag Manager
To learn more about these methods, and how to use them to verify a domain, please go through the guide Verify a domain for Google Services.
---
Conclusion
Creating an online store is not hard, the difficult part is to run it successfully, expand to new markets and increase profits. If you create a store with Jumpseller and use these tools provided by Google strategically, you can make your tasks much easier, and be better positioned for future growth. Remember "Details create the Big Picture!".