When creating your newsletter, there are three main things to consider: the type of newsletter you plan to send out, the content your newsletter will contain, and what platform you will use to send out your newsletters. In order to know how to make the most of your newsletters, it is useful to first outline the aim. Sending newsletters out just for the sake of it is inefficient and will end up being a waste of time, so it is good to put a plan in place.
The aim might be to share updates about your business developments, to inspire or entertain your subscribers to maintain a positive relationship, or to promote your products. The ultimate goal will of course, be to retain customer engagement and continue driving traffic to your website. Looking at the open rate, click-through rate, unsubscribe and bounce rates will give you a good indication on the success of your newsletters. According to Knowledge Base as of March 2021, the average open rate of newsletters is 16.97%, the average click-through rate is 10.29%, and the average bounce rate is 10.59%.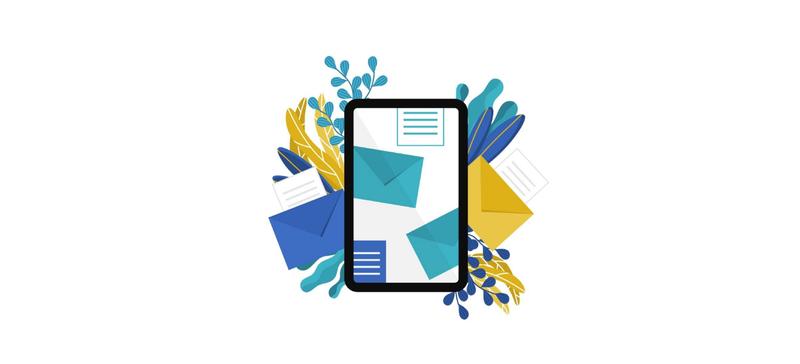 ---
Types of newsletters
During the e-commerce email lifecycle, there are different types of newsletters that businesses can send out, which will determine the frequency and content of the newsletter.
Informative newsletters
This is the most frequent type of newsletter, that is usually sent out on a regular basis weekly, biweekly or monthly. The purpose of this newsletter is to inform your customers of any news or events relating to the business or the wider market trends during that week. The content will be relevant to the industry sector your business is in, which will be aligned with the interests of your target audience.
Holiday newsletters
As the name suggests, this type of newsletter is sent out on public holidays such as Christmas, Easter, and Thanksgiving. It is a good opportunity to have a bit more fun with your content, offer celebratory greetings to your customers, as well as holiday promotions. If you plan to do a holiday offer or giveaway, the best practice is to send out a few newsletters in the series, as a sort of teaser before the day, the official greeting on the day, and a "last chance" reminder after the holiday when the offer is about to expire.
Special promotions
Not only limited to holidays, other offers and promotions can be shared via newsletters sporadically throughout the year. These newsletters will typically have less informative content, and will focus on a bold headline and visuals to grab the viewers' attention, with a clear CTA button for the viewer to redeem the offer.
---
How to create an engaging newsletter
A lot of consideration should go into creating and designing your newsletter, so that it adds value to your customers and makes them want to engage with your brand. The success of your newsletter is determined by two types of content: written and visual.
Visual content
Make sure there is a balance between having enough visual stimulation and having too much. With too few images, you risk boring your readers, but on the flip-side, too many images could be distracting and cause a decrease in the click-through rate.
Having too many large images also makes the email heavier and therefore will take longer to load. Not only will you lose the customer's attention with a slow-loading email, but this might also result in your email automatically going to the junk folder.
Another factor to remember is that many people block images by default, so it is best to not rely on the images to get across the message. Having ALT text set up can also help with this, as it means there is still descriptive text where the image used to be. In order to be inclusive, it is important to make sure your newsletter is accessible for voice assistants too, however voice assistants do not recognise ALT text so again, it is important to make sure the main message of the newsletter is not reliant on the imagery.
Carefully consider what images to include, because unnecessary images will just carry dead weight, whereas campaign-specific imagery is always likely to perform better. Finally, make sure the newsletter is designed to be adaptable for mobile devices.
Written content
The subject header is the first thing your customers will see in their inbox, so it is important to make this as captivating and enticing as possible. Try to get inside the mind of your reader and think about what headline might motivate you to open an email. The best subject header will be short and snappy to pique the customer's interest.
As mentioned before, the content of your newsletter will depend on the type of newsletter you are sending out. If it is a regular, informative newsletter, you can provide a continuation of the conversation so readers are motivated to continue reading the subsequent newsletters. The content should be informative and accurate, including links to your blog for example, so your customers can read more about the topic.
As a general guideline, the majority of your newsletters should be informative rather than promotional, because your audience will quickly lose interest and unsubscribe if you are always trying to sell them something.
Finally, remember to include a CTR, as well as social media buttons so your readers can share your content with their networks.
---
Use a platform to create your newsletter campaigns
The last thing to think about when creating your newsletter campaign, is automating the process of sending them out. There are many platforms available to help make the process as smooth and uncomplicated as possible. You may already be familiar with some of the popular platforms such as E-goi, MailChimp or AWeber, but the list is really endless.
Using these platforms allows you to design your newsletter and schedule the time it is sent out. Additional features of some platforms include the possibility of integrating plugins, or enabling multiple colleagues to edit the draft, as well as in-depth analytics to assess the success of the campaign.