Many consumers love buying and selling second-hand items due to cost-effectiveness, as well as ethical and environmental benefits. Additionally, as the societal stigma around second-hand clothes has been flipped and it is becoming ever more trendy to buy vintage, repurposed, and second-hand products, these numbers are continuing to grow quickly.
According to Research Gate, the speed of development and Compound Annual Growth Rate (CAGR) of the multi-billion dollar second-hand industry is much higher than that of newly manufactured items. This is consistent across all areas, from fashion and furniture, to automotives and electronics, and is predicted to continue increasing in the next few years.
---
Fact and stats:
With an increased awareness of the importance of adopting a more circular economy in order to address the climate crisis, recent surveys show that 82% of second-hand shoppers consider sustainability to be an important reason for buying from second-hand, sustainability-driven sites. Less energy is used, less water is used, and as measured by Schibsted in 2019, users buying and selling in their second-hand marketplace saved around 25.3 millions tonnes of CO2 that year.
Alongside growing concerns over the disastrous impact the mass production of goods is having on the environment, being stuck at home during the pandemic has caused a shift in the shopping behaviour of consumers. Many people have been using the extra time to 'Marie-Kondo' their houses, leading to more people selling their items online or donating to organisations for resale. The economic uncertainty during COVID-19, which is likely to continue for the foreseeable future, has also caused people to buy less, and to favour second-hand items with more competitive prices.
The Business of Fashion says, "before the pandemic hit, the resale market was on track to double. Now this growth may very well accelerate. Resale sites are coming out big winners as the pandemic plunges the economy. Analysts predict consumers will turn to sites like thredUP and Rebag to clean out their closets for extra cash." - Global Data estimates that while the retail sector will shrink 15%, online second-hand sales will grow 69% between 2019 and 2021.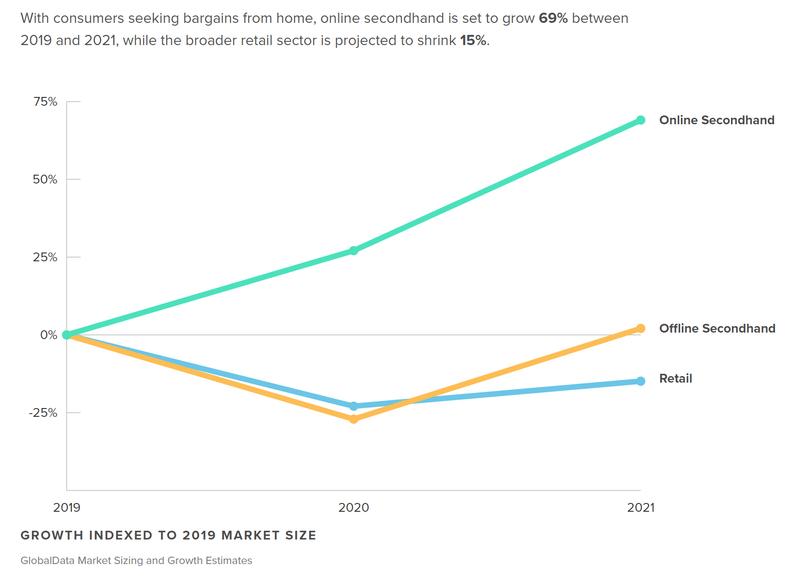 Source: thredUp
What to consider when selling second-hand products online
---
Existing examples of resale platforms
A couple of the trendiest and most popular platforms for selling and buying second-hand products are Depop and thredUp. Both platforms are very active with marketing on Instagram, positioning themselves as chic and unique, and socially, ethically and environmentally responsible respectively.
There are quite a number of luxury resale platforms selling designer products, from platforms like Rebelle, Edit Second Hand and Cudon selling clothing and accessories, to platforms like Pamano, Vinterior, and Selency where on top of the usual predicted items, you can also find niche interior decor and vintage toys.
Big fashion brands have equally realised the potential of the second-hand market and now have their own schemes on their existing websites for customers to sell and buy used items. Some examples include Cos Resell, Asos Preloved, Resellfridges, Farfetch Second Life and Urban Renewal. These platforms offer the option for consignors to resell their clothes and accessories in exchange for credit on their respective websites or in-store.
Finally, favoured platforms such as Ebay, Vinted, Facebook Marketplace and Etsy allow users to sell an array of second-hand products, giving the user more control over how and what they sell. These platforms often allow the seller and buyer to interact directly without any need for a middleman.