If you already have a great website for your business, with excellent performance, design and useability, you might be wondering what else you can do to improve and promote your website even further. Creating a business blog is the answer, and a great way to offer something extra to your customers, partners, and stakeholders.
Statistics show that business blogs are considered to be the 5th most trustworthy source to get information, which is incredibly important especially in this day and age where many people are sceptical of fake news online. Keeping a blog has many benefits for the credibility of your business therefore. In this article, we will look at the benefits to your business, as well as how to organise and promote a small business blog!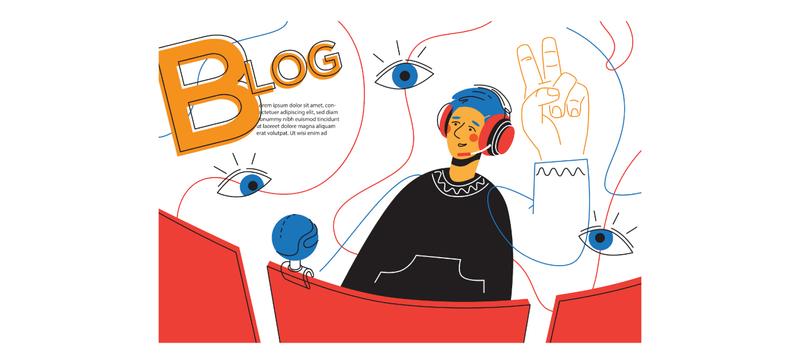 ---
5 reasons to have a business blog:
Establish and validate your authority within the industry.

Posting quality content on topics relevant to your industry is a great way to establish your position as a serious competitor among your peers. When done well, it will also elevate your expertise and consequently your value in the eyes of potential partners and stakeholders.

Increase website traffic.

With 77% of internet users reading blogs, having a blog is a great way to reach a wide audience. When you write about topics that interest your target audience, your business offers so much more to them, giving them another reason to visit your website.

Provides answers to customers' queries.

A factor that often deters customers from purchasing a company is not being able to find the information they need about your products or service. The blog can be used to expand on frequently asked questions by your customers, and preempt any other questions they might have before making a decision on whether or not to purchase.

Promote the company's products or services.

A blog is also useful to share content that gives more detail and background about your products, that goes in much more depth than the product description could. Readers always enjoy a story, and providing transparency about the supply chain or origin of your products for example is a great way to promote your products, as well as your business as a whole.

Improves search engine rankings.

Did you know, businesses with a blog have 97% more inbound links to their websites. Both internal links and external links from other websites to yours help to drive more traffic to your website and retain your audience's attention for longer, thereby improving search engine rankings.
---
5 tips to create a successful blog:
Plan a consistent content schedule.

Planning your content in advance will ensure you are covering the most relevant topics that will be interesting to your target audience. Updating your blog regularly keeps your website fresh and current, meaning your customers and audience constantly have a reason to visit your website.

Create high-quality content.

The best blog is made of what your consumers want to hear about. Keep your buyer persona in mind in order to write content that informs, inspires and entertains your audience. In doing so, you will offer them content they are interested to read, and connect with them on a more emotional, personal and intimate level, rather than a purely transactional relationship.

Express yourself.

There are plenty of blogs on the internet, so in order to stand out from the crowd, it is important to express the brand's voice and unique character. Try not to sound too corporate, but rather develop a tone of voice that represents your brand and speaks to your audience on their level.

Write captivating headlines.

Captivating headlines are most likely to have a higher conversion rate. A/B testing can be useful to determine what kind of headlines, captions and hashtags are most successful and attract the highest traffic. Remember to make sure the webpage's URL contains the headline in it, for optimised discoverability.

Add visual elements.

Articles with visual content have been proven to receive 94% more views than ones with plain text. Adding visual elements will break up text, complement the information being shared, and make the page look more inviting.
---
5 strategies to promote your blog:
Implement SEO.

One of the most valuable things you can do to promote your blog is implementing SEO. Writing a captivating meta description, including a long-tail keyword is a strong way for your post to be discovered by search engines, as well as giving readers a clear and concise overview of what the article is about. You can also carry out more targeted optimisation using Google's Search Console for example, to discover what keyword queries your customers are searching for to find your blog.

Share your posts on social media.

Your social feeds provide the perfect platforms to share your blog posts. It works well to repurpose and reshare your best performing content, reaching more people that may have missed the post the first time. Highlighting prominent quotes and key takeaways, as well as tagging any featured companies or people is a great way to encourage more people to share your post. A/B testing will help you determine which of your posts perform best, which you can then use to optimise future posts. Always remember to include the links to your latest blog posts on your social profiles, so it is easy for viewers to find.

Alert email subscribers to new posts via newsletters.

Your subscribed customers are already interested in your brand, so promoting new blog posts in newsletters offers them fresh content, inviting them back to your website. Make sure to have social share buttons and direct links enabled in the email to make it easy for them to click and share the post. On the blog page, it is a good idea to include a subscribe button, as this will help grow your email list and promote more of your content to a larger audience.

Get involved with online conversations.

Creating conversation with potential customers on online forums is a great way to use your expertise when asking and answering questions to promote your blog. Offering expert advice will persuade viewers to want to read more from you, and providing links will encourage them to visit your website. Equally, other businesses and bloggers are likely to want to get involved and share your quality content if it aligns with their interests, providing inbound links that direct traffic to your blog.

Invite guest writers to contribute content.

Keeping a blog up-to-date can be time-consuming, however inviting guest contributors to write for your blog is a great way to keep producing fresh, engaging content regularly. Guest contributors are also likely to share the articles they have written with their own networks, thus increasing the visibility of your blog, and widening your audience. It is also beneficial for you to create partnerships and contribute guest posts to other businesses' blogs, as this also increases your visibility, with direct links to encouraging readers to visit your blog too.
Source: Optinmonster