Now that you've set up your online store, all that you have to do is wait for people to start buying, right? Wrong.
Up to 98% of visitors do not convert on the first time they visit a website. And, even if your potential customer actually adds something to their cart, over two-thirds of these people will not follow through.
How do you remind these people to come back to your site?
Retargeting.
75.6% of visitors abandon their order
By using this method, you can utilize a strategy that can market across the internet, and bring your users' attention back to your website.
One of the most efficient marketing strategies available, retargeting allows you to market to users that are already familiar with your site and interested in your products.
But to create an effective retargeting campaign, focus on displaying specific products to people who have viewed them repeatedly—rather than marketing to all your previous site visitors.
---
What is retargeting?
Retargeting allows you to reconnect with website visitors, reminding them to return to your site and eventually convert.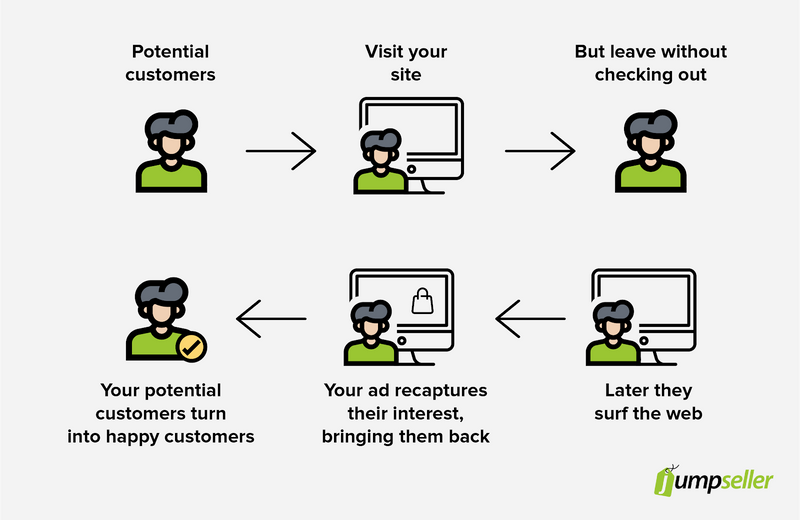 Although you may imagine that every client that arrives on your site will follow a clear path down your funnel, most customers prefer to become familiar with a company before purchasing. In fact, 41% of the people that abandon their order said they were not ready to buy
For example, a potential client stumbles across your site while reading one of your blogs. After reading, they close the browser and don't return for two months. They download your e-book based on a friend's recommendation, browse your products, and eventually return to buy what they need.
In this scenario, you have very little control over their journey.
Now imagine if you could follow that potential client after they left your site, reminding through subtle ads that they should return to complete their purchase.
By planting an unobtrusive pixel or cookie ( usually a small piece of code ) on the browsers of people who visit your site, you can follow your users through the web and drop hints that they should return to your site using Facebook Ads, banner ads, or Google Adwords campaigns.
---
Where to implement a retargeting campaign
While any small business can use retargeting to stay relevant for potential clients, this digital marketing strategy is particularly apt for e-commerce sites.
For example, if someone adds a product to their cart, leaves for a few hours or even a few days, you could send them an email or a targeted ad to remind them to return. These orders are considered abandoned, until the customer moves forward with the purchase.
If they are still shopping for a product similar to yours, your nudge might be enough to bring them back to your online shop and follow through with the purchase. In fact, retargeting specific website visitors, like cart abandoners, can increase conversion rate up to 26%.
There are three main platforms where you can use retargeted ads to bring clients back to your site: Facebook, Google, and email.
Facebook is currently one of the most popular options because it is easy to set up a campaign using a line of Javascript code on your website. Learn more about the Facebook shop here.
---
6 Steps to set up a Facebook and Instagram retargeting campaigns
Want to start driving customers back to your site? Use these six steps to set up your first Facebook retargeting campaign, and bring in the orders.
1. Within your Facebook Ad Manager, create a Custom Audience
If you already have a Facebook page for your business, enter the Business Manager section on the top left hand of the screen. Choose Audiences from the dropdown menu to start creating your campaign.
On the top left of your screen, click Create Audience to build a new campaign. Choose custom audiences to be able to target people who have visited your website.
2. Choose Website Traffic or Customer File
To build a simple retargeting campaign, select the option "Website Traffic" from the list.
This plan allows you to target only those people who have visited your site.
Within the selection, you can also focus specifically on people who have stopped on a certain page, or on those who have visited a page a certain number of times.
You can also target people who have already interacted more intensively with your site: potential clients who have already given you their email.
The Customer File section enables you to import contacts from Hubspot, MailChimp, or another CRM program, which it matches with Facebook accounts to display targeted ads.
However, match rates can be as low as 30%, so list-based retargeting might be less effective, depending which platform you use.
3. Select your target audience from the menu
Within the Website Traffic section, you will see several options for the audience you target. These include:
Viewed or Added to Cart But Not Purchased: Promote products from your catalog to people who viewed or added those products to their cart.

Added to Cart But Not Purchased: Promote products from your catalog to people who added those products to their cart.

Upsell Products: Upsell products from your catalog to people who viewed products from your product set.

Cross-Sell Products: Cross-sell products from your catalog to people who viewed products from your product set.

Custom Combination: Promote products from your catalog to a Custom Audience based on how people interacted with your products. If you choose this option, you can select the audience interactions taken by selecting inclusions and exclusions.
For example, you could include people who added products to their cart in the last 45 days and exclude people who purchased products in the last 45 days
4. Create and install your custom pixel code to start tracking
If you do not already have a pixel installed on your website, you will need to do so before you can track your leads.
Facebook Pixel is an invisible 1x1 pixel on your website that follows anyone who visits the webpage the pixel is installed on. Once your potential client has left that page, the pixel will be able to track them.
To set up your pixel, find your campaign in the "Ads Manager" section of your business page. Click on "Actions" and select "View Panel" from the dropdown menu. This section will display your pixel code, which you or your developer can easily install on your site.
5. Get creative and design your campaign
Once you have set up the pixel and your ideal audience, you are ready to create your ad campaign. Choose a product and a deal you think might drive people back to your site, such as a discount or a coupon.
Make sure to use an attractive photo and tell Facebook to drive clicks to your website.
You can create a custom UTM link to track people who visit you through the ad.
Before you launch, set a budget (start small and test lots of options!) and send out your campaign once you determine which combination of variables performs the best.
6. Instagram Retargeting Campaigns
By following steps 1 - 5, and choosing "Instagram" as your placement for your custom audiences that you built, you can actually use Instagram to retarget as well. Just make sure that your audience is on Instagram before committing to the platform!
Once you've established your remarketing strategy on Facebook, you must design ads that are aligned with your intended audiences. Don't just place your Facebook creative on Instagram and expect it to perform just as well.
Instagram is a distinct, highly-visual platform that caters to a visual-aspirational aesthetic.
As with Facebook retargeting, be strategic in how you allocate marketing resources. You wouldn't want to retarget people who have visited your site just once, as those who have visited high-converting pages, like cart or checkout.
The best strategy? Continual A/B testing to make sure that your creative is converting.
---
Alternative retargeting methods
If you have a bit of experience with retargeting, or your audience is not active on social media, you can try retargeting via email or Google Ads.
Email can be extremely effective for e-commerce sites, especially in the first hour after someone leaves your site.
The following graphic by Rejoiner shows the effectiveness of retargeting ads after a potential customer bounces.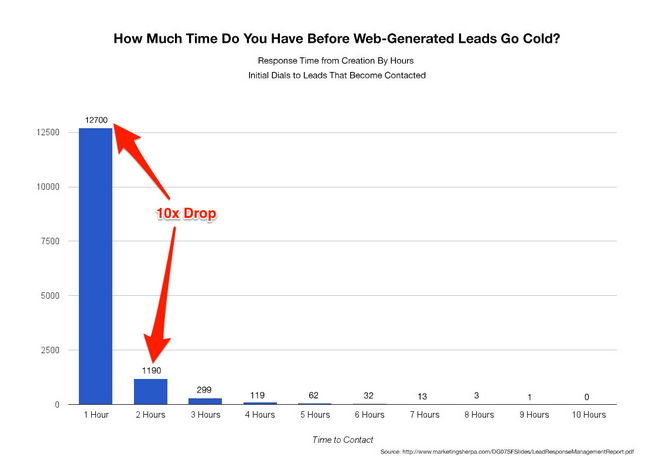 The best time to get back in touch with a lead who leaves your site is within the hour.
Send an email right away if someone abandons their cart, then follow up again a day later.
If they don't come back, try one more time in a week, then let the customer go.
You could see your conversion rates jump from the average of 3% to up to 41% if you target the right person at the right time.
If retargeting still seems intimidating, there are dozens of third-party sites that can help you set up systems to follow your customers.
Companies like Retargeter, PerfectAudience, and AdRoll can implement your retargeting across social media, web, and email, so that you can sit back and watch your leads convert.
Retargeting is most effective when you get back in touch with your potential client with the right information at the right time.
In fact, Your conversion rates could jump from the average of 3% to up to 41% if you target the right person at the right time.
By sending them a nudge as they explore the internet, you can drive traffic back to your site, show them the value of your product, and boost conversions, without having to hire more salespeople.