Support
Facebook Commerce: How to sync a Facebook Shop with your Online Store
Facebook App
Having a strong Facebook presence is one of the key components of running a successful online business, it can go a long way in helping you establish your brand.
However, there are some prerequisite steps that you have to perform before you can use the Facebook App with Jumpseller.
Follow this guide and make sure you have performed all the steps in order to successfully use the Facebook App.
---
Contents
---
Facebook Business Manager
Business Manager is a Facebook tool that helps organize and manage your business.
You need a personal Facebook profile to create a Business Manager account. You use your personal Facebook username and password to sign into Business Manager. It's a more secure way to log in than with just an email address and password.
Creating a Business Manager Account
Log Into Facebook if the prompt comes up. Use the credentials to your personal Facebook account.
Add Your Business Details
At this point you will need to enter some details about your business.
Business Name This is the name of your business. It will be visible publicly across Facebook and cannot contain special characters.
Your Name and Business Email Here you should enter your name and the email address you use to conduct company business. Notifications about your business will be sent to this address.
Clicking Next will take you to the next step of entering your business information. At this point you will need to enter details such as the address you operate from and your business website.
You also need to specify if your business account will be primarily used to promote its own goods or services or to provide services to other businesses.
Once all the details are entered, click Submit and the business manager account will be created. Note that you will be requested to confirm your email address in order to obtain full access to your account.
Associate a Page to your Business Manager Account
Now that you have created a Manager Account for your Business, you need to associate a Facebook Page to it.
It is recommended that at this point you have already created a Facebook Page for your account. How do I create a Facebook page?
Click on Add Page to get started on this part.
You will now be asked if you wish to add a Page that you manage yourself to your business manager, add someone else's page (for this option you need to obtain access to the desired page) or create a new one. Assuming you have access to your business's Facebook Page, click Add Page.
You will now be asked to enter the name or URL of your page. As you start typing, Facebook will search for your page. Choose the correct one and confirm by clicking Add Page. This will associate your Facebook Page to your business account.
Add an Ad Account to your Business Manager Account
Now that you have associated your Page to your Business Manager Account, the same should be done for your Ad Account. From your business account overview, head to Add Ad Account.
Similarly to the previous step, you now have 3 options as to how you want to add an Ad Account.
Add Ad Account Adding an ad account moves it permanently into Business Manager. You must be the owner of the ad account to do this. Please note, once you add an ad account and it's moved into your Business Manager, this action can't be reversed. All management of your ad account must be completed within your Business Manager profile.
Request Access to Ad Account This means requesting access to an existing Ad Account on Business Manager. The administrator of that Business Manager can give you access to work on it.
Create a New Ad Account If you create a new ad account in Business Manager, it'll permanently belong to that Business Manager.
If you choose to associate an existing Ad Account, you will need to enter its Account ID. To create a new Ad Account you will need to enter the name of the account as well as payment, timezone and currency information.
After selecting or creating your Ad Account, follow the presented steps in order to give your Business Manager Account access to work on it.
Facebook Pixel
The Facebook pixel is a piece of code that's placed on your website to report conversions, build audiences and get insights about how people are using your website.
Create Pixel
To create a Pixel for your business, start by, from the Business Manager Menu, heading to the Events Manager.
Once there, under Data Sources, you will find the option to create a pixel for your business.
To create the Pixel, you only need to name it and, optionally, add your website URL.
Add People
Once the pixel is created, you need to assign someone to it.
To do this, start by heading to Business Settings.
Your newly-created Pixel can now be found under Data Sources.
Select your Pixel and, under the People tab, click Add People.
Choose yourself, the Business Manager Account administrator (this will be the only listed person if you haven't added any others) and turn on the switch labeled Manage Pixel and click Assign.
This will give you full access to the Pixel and its actions.
Connect Assets
Once the pixel is created and people have been added to it, you need to associate it to your business' Ad Account.
Having selected your Pixel in Data Sources, go to Connected Assets and click Add Assets. This is where you will associate your Pixel to your Ad Account.
From the Add Assets menu, select your Add Account and press Add.
Your Ad Account is now connected to the Pixel and you should see it in the Connected Assets list.
---
Configure the Facebook App for Your Store
Go to the Apps Section on the admin panel of your store and click on Gallery, here you will see the Facebook App, click to install it.

Once done, go to the Installed section and click it. You should see this page. Make sure you have done all of the listed steps and click Get Started.

Now you should be viewing the setup wizard for the App, as you see below, Click Next:

Next, you have to select the Facebook page for your business:

Select a pixel for your site, if you have one associated with your Facebook Page, it should already be selected, if not, you can go ahead and select one.

The App will show you the number of products to be imported from your online store inventory. Any new product you add to your store will already be added to your product catalogue on your Facebook Page. On this occasion, the app will create the first Product Catalogue for you and import your products from the Jumpseller store. You can also create more catalogues manually on your Facebook Business Manager Account.

Now you have to wait for Facebook to approve your products (images and descriptions) and after approval, you are ready to create an Ad for Facebook. Your products, that were imported from your online store, will be shown (pending approval) in the Dynamic Facebook Ads interface.

You can now go to your Facebook Page, specifically to your Facebook Business Manager and view your product catalogue there, it should look similar to this.

Note: If you want to use the catalog for Instagram, for example, to enable Product Tagging, you will need to do the following additional step as well.

Connect the catalog created with the Facebook App to the Business Manager Account. You can do this by going to Catalog Manager, selecting that catalog, go to settings from the side bar, and connect to Business Manager account.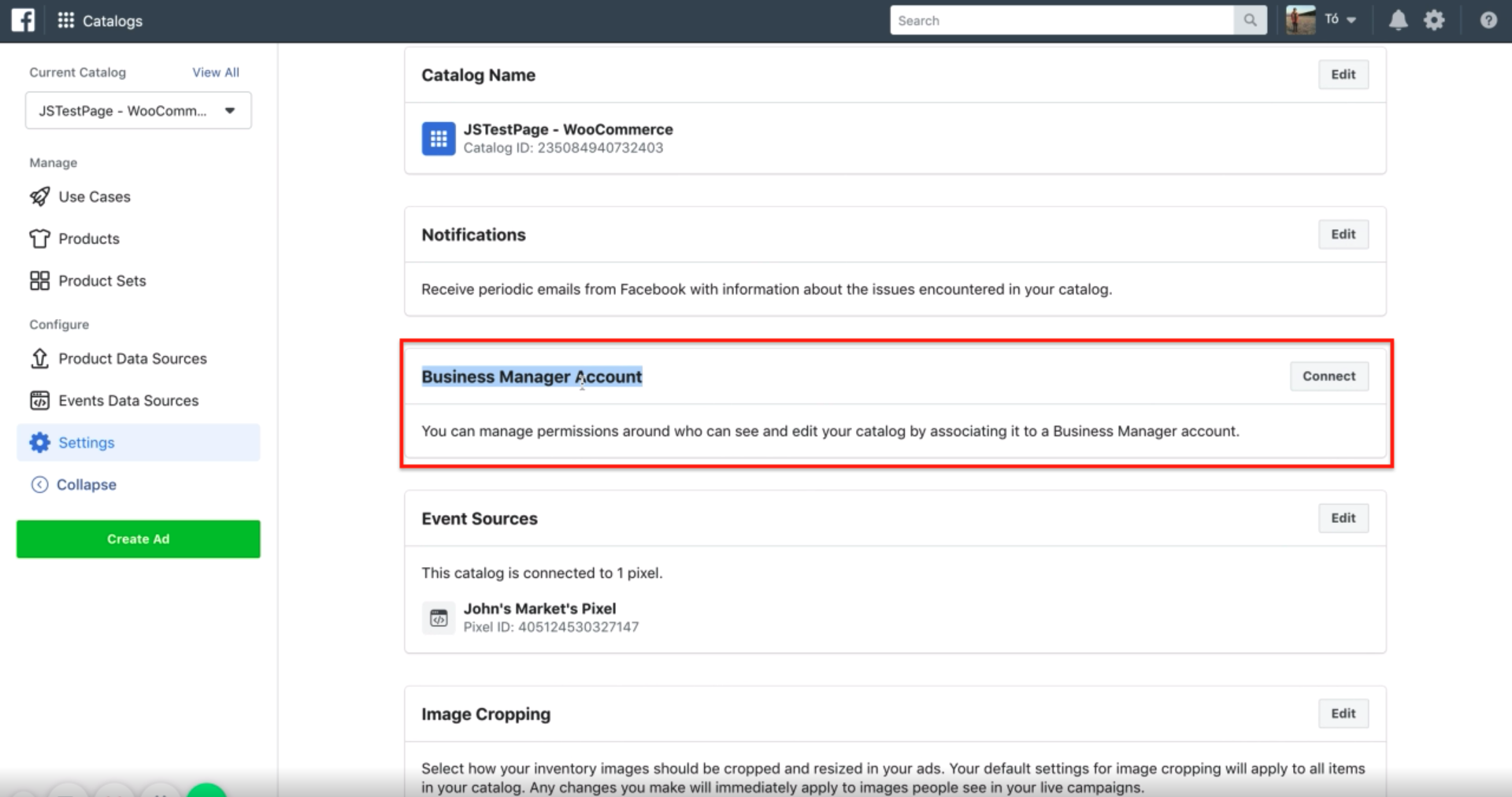 After it's connected, you can go to the Facebook Business Manager and check to confirm!
To further configure Instagram Shopping, follow the steps at: Instagram Shopping Guide.
Mobile Demo
When the configuration is completed and the shop/products are approved by Facebook, you can visit the Facebook page and select the Shop section to test it out. Below is a sample of what you can expect for the mobile version:
---
Frequently Asked Questions
I can't setup the Facebook app.

Please make sure you have disabled all/any ad blocker in your browser, and to enable the option to save and read cookies in your browser, while you configure the Facebook App.

My Facebook Pixel is showing some errors or is not working properly.

Only on Google Chrome, after disabling all ad blockers, please install the Facebook Pixel Helper plugin (link - https://chrome.google.com/webstore/detail/facebook-pixel-helper/fdgfkebogiimcoedlicjlajpkdmockpc) and open your website to confirm if all data is being properly shown on each page

The shop section is not showing on my Facebook Page, why?

You may be violating Facebook Merchant Terms and Policies, please review them here: Terms and Policies.

My products are not syncing to Facebook or images of my products are not showing, why?

Uploading images on the Facebook store can be tricky, however, Facebook provides some recommendations in order to have the best chance of getting approved. Note: Every product needs to be approved before it can be shown on your Facebook Shop.

Will my products update automatically when I change them on Jumpseller?

Changes to your products made on the admin panel will be automatically synchronised to the Facebook catalog. Price changes caused by the start or end of promotions are synchronised once per day at 12:00 AM UTC.

I want to sell on Instagram but my account is not approved, why?

Firstly, you need to meet the following requirements to use shopping on Instagram. You will need to submit your account for review through your Instagram account settings. Note: Your account may be rejected without any explanation, catalog/account approval is at Instagram's full discretion.

Images Requirements

At least one image is required for each product

Each image must be of the product itself; it can't be a graphical representation (ex: an illustration or icon) of the product

Recommendations

You should use images that:

Are easy to understand and show the whole product
Have a resolution of 1024 x 1024 or higher
Are in the square format
Show the product up close
Have white backdrops
Capture the product in real life situations

You shouldn't use images that contain:

Text (ex: calls to action, promo codes)
Offensive content (ex: nudity, explicit language, violence)
Advertising or promotional material
Watermarks
Time-sensitive information (ex: limited time price drops)

Descriptions Requirements

Recommendations

Your descriptions should:

Provide only information directly related to the product
Be digestible (ex: make use of short sentences and/or bulleted lists)
Highlight unique product features
Be grammatically correct and properly punctuated

Your descriptions shouldn't have:

HTML
Phone numbers or email addresses
Long titles
Excessive punctuation
All the letters capitalized or in lowercase
Book or movie spoilers
Links to external sites
Learn more about uploading products at: Facebook Help Center
We are here to help, so if you have any questions you may contact us anytime.