Having an efficient shipping and fulfillment system is very important to the success or failure of an online store.
Beyond a good product catalog and an atractive e-commerce platform, shipping orders on time, and at a reduced cost, is a factor that guarantees customer satisfaction with your online store.
Many shoppers abandon orders due to a shipping time shown that was too long, the lack of information regarding delivery times, or even because of unexpected extra costs associated with shipping during checkout.
So, how can one deal with these issues? Well, with Jumpseller you have many options to configure and tailor the shipping process to suit your specific needs. Let's go through them!
---
Understand your Business Model
The first step is to understand what type of business you want to start, is it dropshipping, a service, luxury products? The type of products greatly affects your shipping costs and conditions. Consider the following variables:
The distance between the warehouse or seller (place to dispatch products) to the shipping address.
Weight of the shipment.
Depending on the type of goods, if it is something which can be easily damaged during the shipping process, there will be additional packaging charges for extra protection.
Shipping charges may increase depending upon your product's worth. This will be different with different courier services.
Select shipping companies
The most important part of setting up a good logistics system for your business is to select the right shipping companies to work with.
Depending on where you are in the world, there can be different options for shipping, but the popular ones globally are:
List of Shipping Options integrated with Jumpseller
Dropshipping
If you are running a dropshipping store, then your supplier will take care of the shipping. However, it is always a good idea to validate the supplier first by ordering a single unit from them or even requesting a sample.
Evaluate the packaging quality, time taken to deliver, and product health of the sample they sent to determine if they will meet the desired standards.
Lastly, make sure your supplier does not end up including any of his own marketing material when shipping to your customers.
Target Audience
The delivery costs of your orders will also depend on your target audience. There are a few steps you can consider when handling shipping costs for your customers:
Check the countries to where you intend on shipping orders.
Request your local shipping services or others that are located within the region of your warehouse/storage to get you a list of region codes and the rates per kilogram for those regions respectively.
After you have narrowed down the suitable shipping companies, try to negotiate rates with the owners to get discounts on volume shipping or event discounts for small businesses.
You can negotiate a better rate if you have an idea of how many shipments you'll be sending out in a month.
Some platforms, like UPS, also allow "Real-Time Rates", which means the checkout is directly connected with UPS and the customer can get the exact rates from them.
Order Confirmation and Invoice
Configure the option to send an email to your customers confirming the payment of an order and the receipt of the transaction. If you are using a sales platforms like Amazon or eBay/ PayPal they will do this for you.
As an example, in Portugal, we have an integration with Invoicexpress, Vendus and others, which means that every time a new customer shops in your store, an invoice for their purchase is sent automatically.
Performance Monitoring
To control the efficiency of your online store's order shipping process, you should monitor the performance of your shipping system.
Here are some of the indicators that can help you:
Transportation cost - To find out what percentage of your turnover is being used to support the cost of deliveries, add up all the transport costs and divide by the turnover for that period. Finally, multiply by 100.
Damaged goods during transportation - To find out the percentage of costs with damaged goods during transport in relation to the total amount paid for transportation, divide the amount spent on transporting the damaged goods by the total value of transportation in the period in question. Then multiply by 100. Ideally, the value should be as low as possible.
Delivery efficiency - To find out what percentage of orders you were able to deliver within the deadline communicated to the customer, divide the amount of orders delivered on time by the total amount of orders. Finally, multiply by 100.
By regularly analyzing these indicators, you can obtain relevant information that will allow you to take action to improve your order shipment process (if necessary) either by renegotiating rates or by changing to a logistics operator with a better quality of service, for example.
---
How to set up Shipping with Jumpseller
On your admin panel you can access the shipping options by going under Settings > Shipping.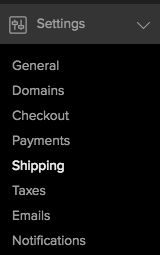 Here you can set an "estimate" price of what the customer will have to pay to deliver the package from origin to the destination. You have the following shipping options to choose from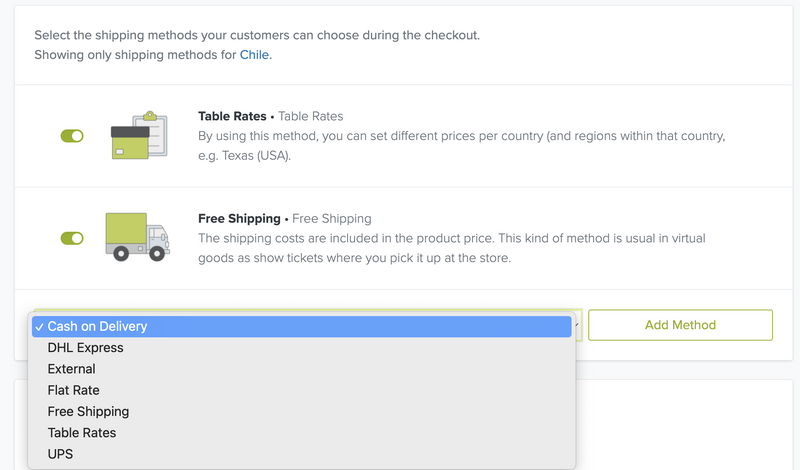 UPS, Chilexpress, and other shipping services are also available options depending on your store's country, these define the estimated fees automatically which are later shown in your shopping cart.
Once you have added a method, you have the option to set Ship to All Countries.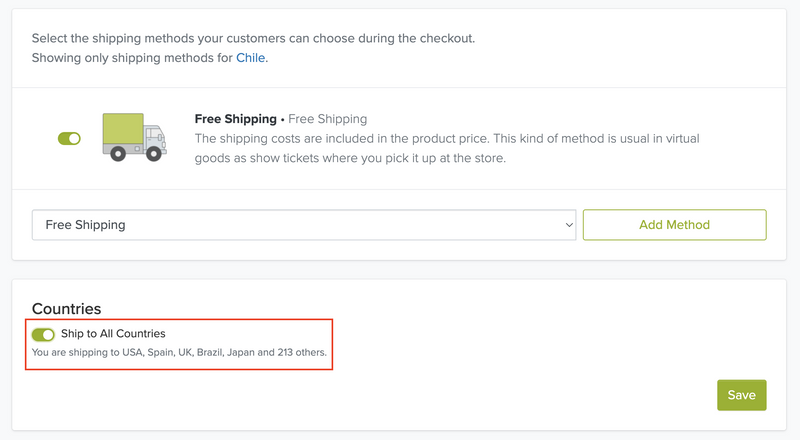 Or you can select specific countries and even specific regions from a particular country.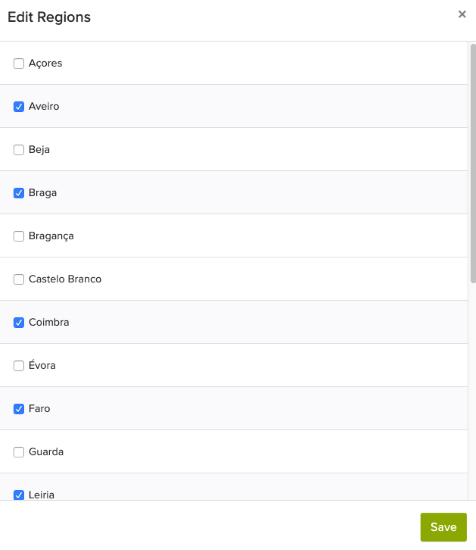 Once you are done, you will see the number of regions you have selected out of the total number available.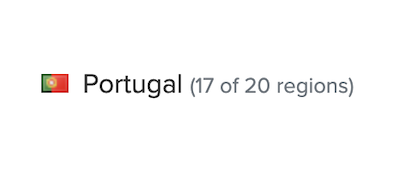 ---
Fulfillment
Get the Advanced or Premium Plans and you'll have the added advantage of using the Jumpseller Fulfillment option. This feature helps the merchants to send the products to their customers in a simple and easy way.
UPS, ShipIT, CTT, etc, define the fees themselves automatically, through web services, so you never need to worry about defining the shipping cost manually. You just need to deliver it to the shipping company address or schedule a package pickup in a certain address (can be your headquarters, a warehouse ou another place where you have your stock).
For Example; In Portugal, with the CTT fulfillment services, you can generate a label, stick it on the package and take it to a CTT post-office to have it delivered without any extra paperwork. We also have the CTT Pick Up Service, i.e, when you generate a label and stick it in the package, you can request a package pickup and CTT will come to you to get the package.
Fulfillment Pickups
In order to be able to schedule order pickups by CTT or other company at your company's door or other convenient location, please follow these steps:
In the administration panel of your store go to Checkout > Locations > Click on "Add Place" >Fill in the information of the location where you want CTT to pick up your orders (make sure you put an address in Portugal in this case) > Click on "Save".

If you haven't added CTT as a fulfillment method, go to Checkout > Fulfillments > select "CTT" and click on the button "Add".

Note: Clicking on CTT you can customize the services you want to use.
Now you can start scheduling pickups when you need them by going to Orders > Flufillment Pickups > clicking on "Create Pickup" and selecting the location to pick up (which was created on the 1st step), pickup date, pickup schedule, service and amount of boxes to be collected.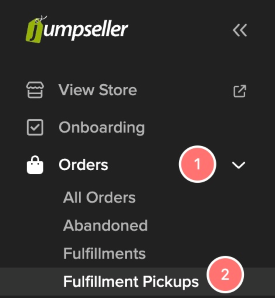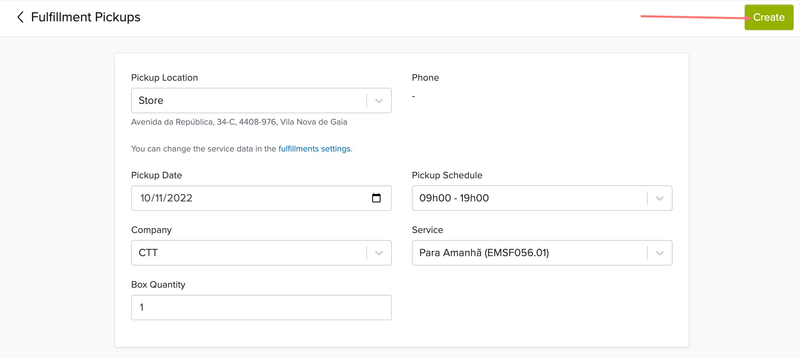 Finally, click "Create" > "Create".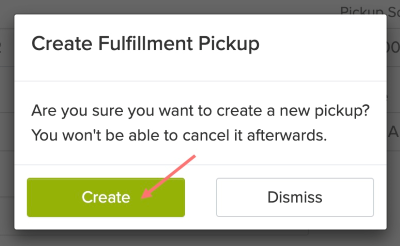 Note: Once you have scheduled the pickup you cannot cancel it