Learn
How to Write a Winning E-commerce Business Plan
While spontaneity might sound like a key ingredient in the madly successful entrepreneurial recipe—it's not. Before you rush into anything, it's critical you create a business plan. Without a plan, you're just throwing darts at the board and hoping something sticks. But if nothing sticks, your business will crumble along with your capital and confidence.
Creating a business plan may sound intimidating, but it's easier than you'd think. It's basically a living document that details how you're going to get your business from Point A to Point B.
Now, don't go downloading an e-commerce business plan template and start plugging in whatever it tells you to—that's going to lead to boredom, exhaustion, headaches, and overall lack of context. Below, we'll lead you through 6 simple steps that'll inspire creative thinking, deliberate research, and perceptive problem-solving. By the end of this article, you'll have a polished and practical e-commerce business plan in hand, ready to take on the digital world.
---
Contents
---
1. Perform a Market Analysis
The #1 reason for startup failure is the lack of a market need. It doesn't matter how innovative your product is if the market doesn't want or need it.
For example, Ivaylo (Ivo) Kalburdzhiev spent 3 years and $50,000 on an iPad racing wheel that nobody actually wanted—that's what we're trying to prevent happening by creating a winning e-commerce business plan from the get-go.
Take a look at your market. What's hot—what's not? Are there any holes where your product would fit? What customer problems are going unsolved? What problems have too many solutions?
Your business needs to not only keep up with its industry, but it needs to find ways to get ahead of the curve. Who are your direct and indirect competitors? What are they currently selling and how are they marketing?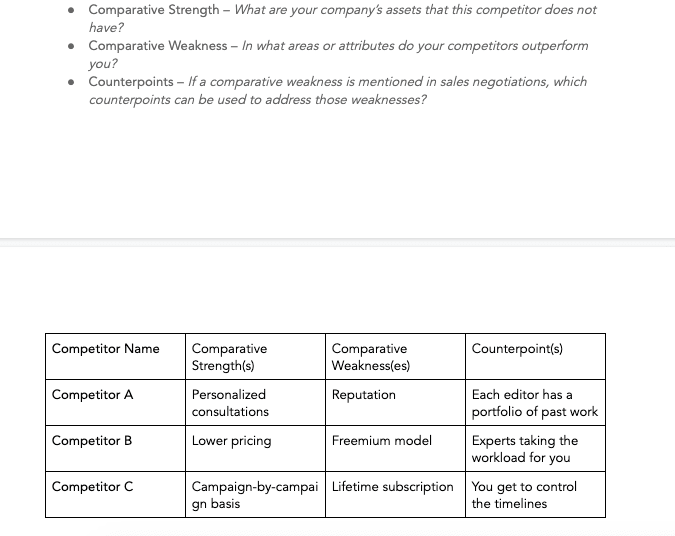 A market analysis will help you get a feel for the ecosystem you're trying to join. It's sort of like touring a university before you choose to attend—you need to visit the dorms, check out the cafeteria, meet some students, and more. Only then will you feel comfortable with your decision moving forward.
During your market analysis, you may find issues (like product-market fit or trends in the wrong direction) that'll indicate your e-commerce business idea is destined for failure. On the flip side, you may identify signs that validate your business idea.
2. Describe Your Business
Now that you know what the market looks like, it's time to break down what your business will look like. Let the information you discovered in your market analysis dictate which direction your business should go.
For example, your analysis may have revealed that your competitors already created a product similar to yours, but it may be too expensive for your market—that's when you'll need to problem-solve to drop your prices.
What problem will your solution solve? What is the buyer persona you're going after, and why will they choose you over your competitors? What is your e-commerce business's unique selling proposition (USP)?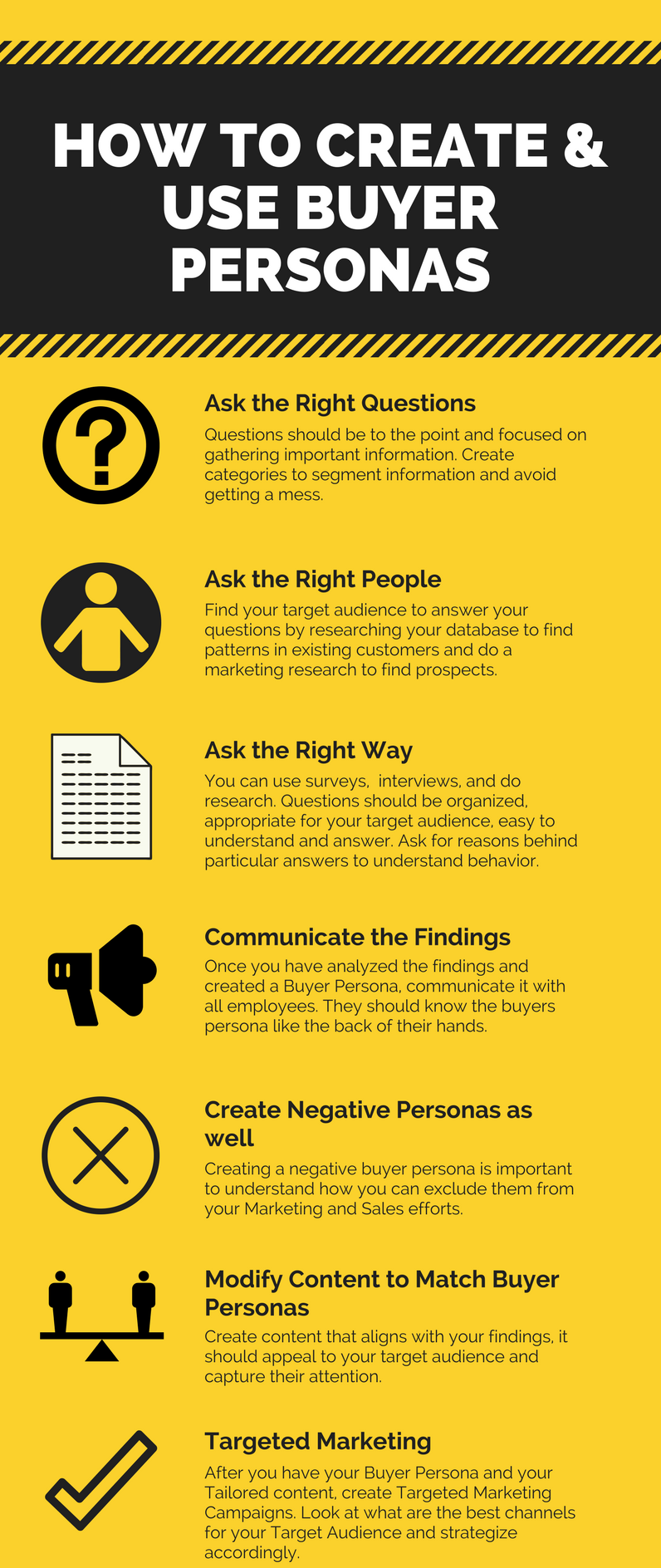 This is a good time to perform a SWOT analysis. A SWOT analysis is a technique for assessing your:
Strengths
Weaknesses
Opportunities
Threats
Strengths are the things that your business does well and what separates you from your competitors. This may include proprietary technology, experienced staff, or branding advantages.
Weaknesses are the things your company needs but doesn't have. These are the things your competitors probably do better than you.
Opportunities are the holes you identified in your market analysis. These are the reasons your business is primed to join the e-commerce space and why it's going to be successful.
Threats are the things that pose a risk to the success and survival of your business. This could be changing regulations, new competitors, evolving technology, or the wake of a global pandemic.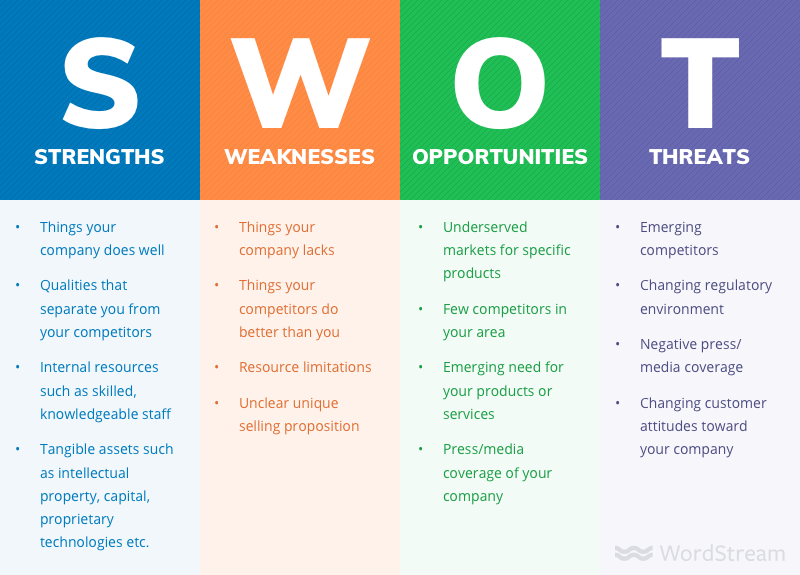 3. Determine Your Goals
Now that you know where your business is now, where do you want it to go? What's the purpose of starting this business? Do you want to make a quick buck and sell out as soon as possible or are you in it for the long haul? Do you want to focus on a single product line, or do you plan on scaling and diversifying your catalog?
You might not have all the answers to these questions just yet, and that's okay—this is a good exercise to get your creative juices flowing and thinking about all the possibilities. Later, when we determine how you'll make your goals a reality, you may find that some of your aspirations are unrealistic—if that's the case, feel free to come back to this step and reevaluate.
Remember to include a BHAG, as well. A BHAG is a big hairy audacious goal, and it captures the medium-to-long-term dream of your company. For example, back in 1990, Wal-Mart set a BHAG to become a $125 billion company by the year 2000. And back in the 60s, Nike set a BHAG to "Crush Adidas."
4. Outline How to Make Your Goals a Reality
This step is when you start making more tangible operating plans. If your goal is to make a certain amount of money, crush a competitor, or turn a profit by a certain date, how are you going to make it happen?
How will you differentiate yourself from your competitors? What branding, digital marketing, and sales tactics will you employ to find, engage, and retain customers? How will you price your product to balance quality with affordability?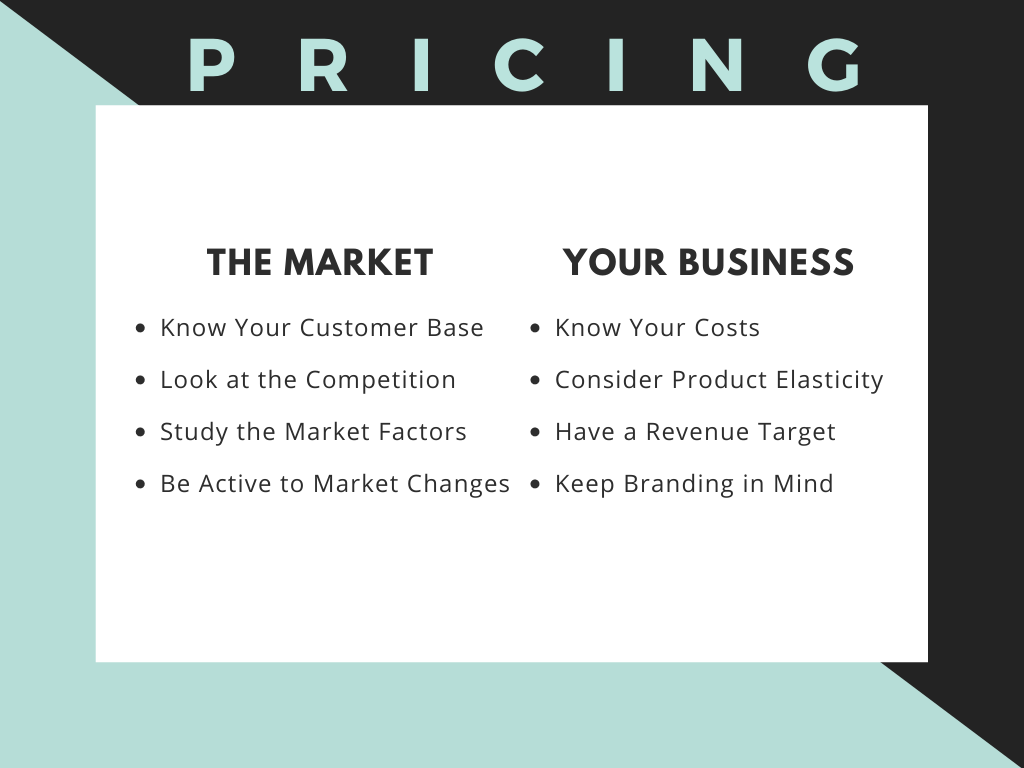 This planning process is where you'll spend the majority of your time when building your e-commerce business plan—fortunately, it's the most fun aspect.
5. Build Your Financial Plan
The #2 biggest cause of startup failure are financial problems. Regardless of the product-market fit, your business's strengths, and the timing, if you don't nail your financial plan, your business won't last very long.
Talk to suppliers, do some Google searches, and crunch some numbers to estimate your expenses. What's the overhead going to be, and what COGS (cost of goods sold) do you expect? What do you anticipate the ROI will be on each unit sold—how much will you need to sell to break even?
Once you have a better feel for your anticipated financial situation, it's time to decide how you'll get the initial capital you need. Unless you have a boatload of cash sitting idly in the bank, you'll likely need upfront money to get your business off the ground. When it comes to working capital, you have a few options:
Small Business Loan: SBA 7(a) loans, equipment financing, business line of credit, credit cards, term loans—if you need working capital, there's a loan that can make it happen.

Equity Financing: You can trade a portion of your company in exchange for financing. In the short term, this is a quick way to make "free money," but equity financing is almost always more expensive than a loan in the long run.

Crowdfunding: Use a site like Kickstarter, Indigogo, or GoFundMe to get the public to invest in your e-commerce site in exchange for a future product, recognition, or other rewards.

Family and Friends: Ask your friends and family to contribute money (interest-free or interest-required) to launching your e-commerce business. Mingling your business with your personal life can get tricky, so tread lightly.
6. Draw Up Your Executive Summary
This goes at the beginning of your plan, but you can't really create it until you've filled out everything else. The traditional executive summary is a stodgy document that professionally outlines all the research and answers we compiled in steps 1-5. However, depending on your industry, brand, and how you're planning on using your executive summary, feel free to freshen it up.
For example, if you're using your e-commerce business plan to earn an SBA loan or win over a couple of old school investors, you'll likely want to use the classic executive summary format: mission statement, a description of your product, company history, competitive advantages, financial projections, company goals, and your "ask". However, if you're using your e-commerce business plan to inspire your employees and drive your business towards a collective mission, use a modern format like an infographic, poster, or 1-pager.
Once you've completed steps 1-6, you're ready to compile all your plans together into your winning e-commerce plan. With your plan in hand, you're equipped to tackle whatever challenges or opportunities the world throws at you and your business.
---
About the Author
Samantha Novick is a senior editor at Funding Circle, specializing in small business loans. She has a bachelor's degree from the Gallatin School of Individualized Study at New York University. Prior to Funding Circle, Samantha was a community manager at Marcus by Goldman Sachs. Her work has been featured in a number of top small business resource sites and publications.
Sources