Learn
How to use cross-channel marketing to grow your business
Understanding & Implementing Cross-Channel Marketing
Has it ever happened to you that you started to execute your online marketing strategy, opened several communication channels, designed the messages and advertised on different platforms only to observe that they work in a vastly different way? You do not know with certainty which channel converts better?
Do you have problems unifying your efforts for each social network? If you see yourself reflected in these questions, it is time to learn about cross-channel marketing.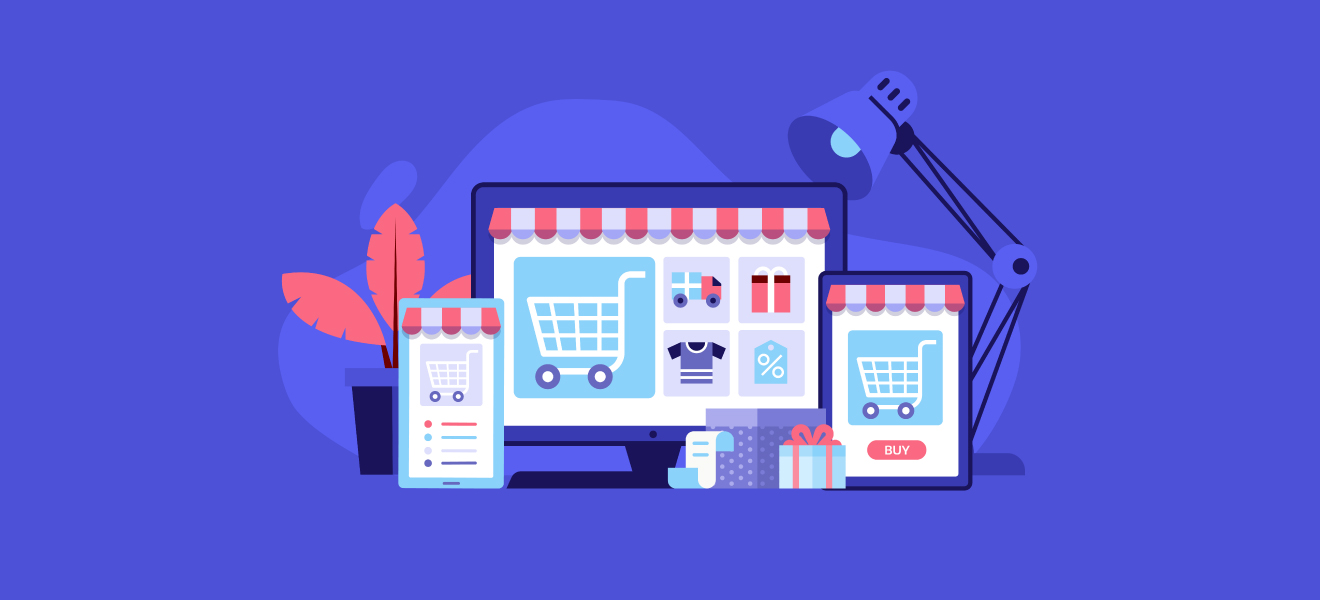 ---
What is Cross-Channel Marketing?
Cross-Channel Marketing is a new way of approaching the management of the channels through which you reach your customer. To increase your conversions, an integrated strategy is sought, combining efforts between different platforms such as social networks, e-mail and Google Ads.
Let's see an example: You do a campaign for shoes on Google Display directed to a landing page where the person can download the catalog of your new collection. In addition to downloading, you invite them to follow you on Facebook and then, with your data, you create an advertising campaign on Instagram to show them those shoes on offer. The person clicks on the ad and ends up making a purchase.
---
Cross marketing is not the same as multi-channel marketing
Although the similarity between the two is that there are several channels involved, multi-channel does not imply integration. Also, It focuses on transmitting the same message on all communication channels and addresses an audience in general, there is no customization.
For example: You make a campaign for an event and you release the diffusion pieces simultaneously on Facebook, Twitter and Instagram; You also put advertising on Google. Among the audience that sees the offer, you can not differentiate between those who already bought the ticket to attend and those who expressed interest but still do not buy.
In contrast, in cross marketing, the potential buyer is the center and all efforts are focused on driving their journey, from knowing your brand until you make your first purchase and continuing the relationship. So, depending on the actions you take at the points of contact with your store, you will receive personalized messages.
Centrally manage your strategy
The biggest obstacle to a cross-channel marketing strategy is that the tools and the teams that manage them can be disjointed. Ideally, there should be a single platform to coordinate these actions.
Important Channels
If you prefer to create and manage the cross-channel marketing strategy yourself, let us take you through the most important channels for you to explore. As you test them, it is definitive for a good strategy that you can read the data of the people who interact with your messages. This way you will be able to identify which channels are popular with your customers and prioritize them.
(How to Manage Social Media Like A Pro)
Social Networks
According to the Global Web Index 2018 trends report, which interviews more than 350,000 internet users between the ages of 16 and 64 every year, these are the key components that must be taken into account on social networks:
98% of digital consumers are users of social networks. On average 2 hours and 15 minutes is the time spent by one person per day connected to these channels.

On average, a digital consumer has 8 social media accounts.

Cell phones are the most used device to access.

More than half of digital consumers follow brands in social networks and these channels are the most frequented search site to find products and services, especially between the age of 16 to 24 years. However, the search is far from the purchase and only 13% of that same group says that a purchase button would push them to buy.

On average, 74% of respondents (from 16 to 64 years old) bought online in the last month.

The groups that use the most social networks to look for products are the ones from 16 to 24 years old and from 55 to 64 years old.
Facebook: It has the largest number of users in the world. Facebook Messenger is one of the top services for instant messaging.

YouTube: Has the No. 1 position in visits per user.

Instagram: Outperforms Twitter in the age range between 16 and 44 years old and is increasingly positioned in the world of E-commerce.

Twitter: It is one of the most used media in customer service. Especially in brands of mass consumption, it is one of the key platforms when it comes to recognizing or claiming a company.

Snapchat: It is the most used channel in generation Z (born between 1995 and 2015), mostly in North America and with moderate use in other groups.

Linkedin: More than 9 million companies are on LinkedIn. Nine out of ten Internet users choose LinkedIn in the business world, compared to 41.9% who choose Twitter and 18.1% who choose Facebook.
E-mail Marketing
It is one of the best channels when it comes to converting a new lead. The key here is to make a piece of content that is relevant, useful and timely. Sit down to think about the goal you want to achieve, know the best time to reach your client and write a copy that really hits the target. Ideally, include a single call to action in each piece.
Content Creation
Educating buyers about your products is the best way to build trust and credibility. The advisable thing is to have a library of resources of diverse formats: videos, blog posts and podcasts; and have two kinds of content: the so-called "Snackable", which are those that are read quickly and are made to bring traffic to your store; and the "Evergreen", which serve to offer in-depth content, such as E-books or Whitepapers.
Paid Advertising
Being the largest search engine worldwide, not working on a strategy to find you through there is almost synonymous with not being anyone on the Internet. So if there is something you should keep in mind from the moment you start writing the content of the pages of your store is the search engine optimization, known as SEO (Search Engine Optimization). In addition, Google has several tools for advertising: on their search engines, on YouTube, on Gmail and on websites that are their allies.
Whatsapp
Master the field of instant messaging. If you are doing a cross-channel marketing strategy, consider this tool as a great ally. In what cases is it used? It can be useful in a post-sale process or to offer a very personalized customer service.
---
How to create a cross-channel Marketing strategy
There is no magic formula to succeed in making a strategy that integrates all your channels, however, there is a pill that works for us all: Data. Measure, measure, and measure. To avoid a chaos between your communication points and to create a connected system you need to be able to collect, organize and analyze the information about the people who interact with your store.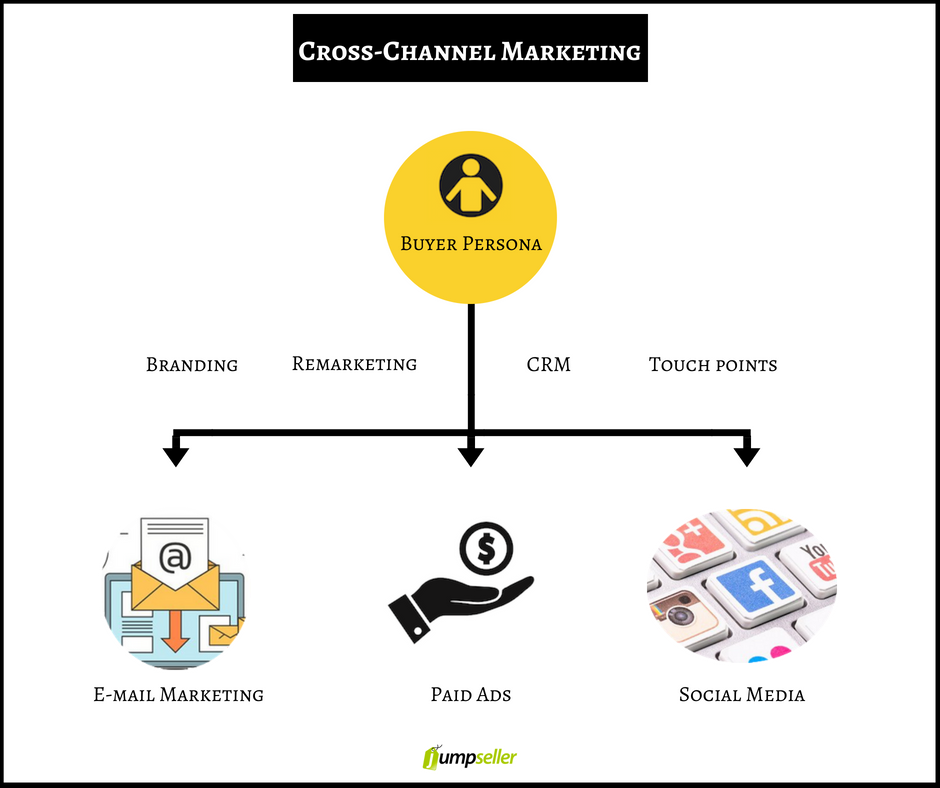 In addition, you need to familiarize yourself with the profile of your buyer (also known as Buyer Person) and break down the journey that goes from when they experience a problem or have a need until they find a solution in YOU and decide to buy (Customer Journey). Some steps that can help you in the process:
Define your goals Ask yourself these questions:

What do you want to get?
What do you want them to do in your store?
What are your key results for each objective?

Break down the profile of your ideal buyer Remember that whether you have a direct model to the consumer (B2C) or a model aimed at companies (B2B), the end customer is ALWAYS a person. In the second case, keep in mind that these people usually have to make their decisions to someone else, therefore education on your product / service is a critical factor. The best way to come up with the profile of your ideal buyer is to create a Buyer Person. Segmentation can consist of many groups which have common traits, however, each group is not exactly the same. With the help of buyer persona, it is possible to compile the common traits between these groups and come up with a detailed representation of your Target Audience. To sum up, buyer persona brings your segmentation to life! How to create and use a buyer persona.

Build a strong brand It was said by one of the founders of PayPal Peter Thiel: One of the characteristics of businesses that are monopolies is that they have powerful brands. Think about what Apple did around its brand: it built an aesthetic, created a lifestyle and sowed the need to aspire to have its products. If you want to have a strong cross-channel marketing strategy, you have to know what the soul of your brand is: Why is it there? What is its purpose? How does it achieve such purpose?. And after creating it, you have to know how to impregnate it in all the pieces of communication that you do: texts, images, videos, podcasts, printed materials, among others.

Do not jump into things Be advised not to open several channels at once. Start with one or two and see how your users are behaving. You can also ask them at your store which channel they prefer to communicate with them. Note: Do not use the same message on all channels. Understand the audience that is in everyone and talk to him according to that information.

Collect your customers' information Focus first on generating leads. Doing cross marketing will be almost impossible if you do not have people in your database. And all the contact that you are generating, include it in an organized way in a CRM, the basic version can be an Excel or a spreadsheet in Google Drive. For advanced versions there are several options according to your budget such as Salesforce, Base and Microsoft Dynamics.

Use Remarketing Remarketing is a system that allows you to create personalized ads for users who visit your website. Let's see an example: A person came to your online clothing store, included a couple of items in the shopping cart, was distracted and forgot to complete the payment. With remarketing you can show a specific advertisement to remember the product you were going to buy and drive it to complete the purchase process.
---
Conclusion
Cross-Channel Marketing is the smartest approach to take to prevent chaos in the expansion strategy of your online store, it is also the most powerful way to take advantage of all the channels available to you. Although there is no accurate recipe to combine all the ingredients, the principles to succeed are: clarity of objectives, deep knowledge of your ideal client, a strong brand, personalization of messages according to the environment, data collection, organization, and analysis.