---
What you should know about this social network
Part of the following points were extracted from the global study in 23 markets that this social network realized together with Kantar Media to understand what drives the use in Twitter.
The majority of users are between 35 and 49 years old.
67% go to Twitter to get news.
They like to be the first to try new things
88% like to give their opinion about things they know or are interested in
They are a source of information for their friends and family members who come to them for advice when they want to buy something
It is the place where people get involved, discuss and ask brands directly
The virality of this social network is so powerful that in 2018, after a tweet launched by Kylie Jenner, Snapchat lost more than 1,000 million euros after a 6% drop in its shares on the stock market.

---
What does Twitter offer to an E-commerce?
Connection: you can see what customers are talking about you and participate in the conversation. Here you do not need to ask permission to follow anyone and as in a networking, you can make cold contacts.

Reputation: Twitter is the medium where people complain most about brands and they also share positive opinions.

Real-time information: this is the best channel to communicate news about your store, especially at events such as CyberDay, where you need to be more active than ever in relation to your message delivery and the responses of your customers.

Sell: With a well-directed and measured strategy, you are now well positioned to sell. Twitter users buy online at least 6.9 times in a month, while those who do not use it 4.3 times.
In addition, 49% of the buyers in the platform say they have been influenced in their decision after seeing a content in this social network.
---
Tips for your marketing strategy
Start by showing interest. The keyword of this network is "inform", remember that 67% of users enter Twitter to find news.
But also know that people on Twitter have a very short attention span because of being constantly bombarded with new information.
Participate in trend conversations in your industry using hashtags (#).

Educate and offer entertainment through memes, GIF, blog content, videos, etc.

Publish new features of your company, even if they are less relevant, for example a change in decoration, a new member of the team, etc.

Create hashtags for campaigns: unique, relevant, simple and sticky. These are the characteristics of a good hashtag.
If you want to breathe creativity on Twitter, I recommend that you go to the Burger King Argentina account. With the #StackeRTweet campaign, they managed 54,000 retweets and won the best campaign of the year.
They put forward in several Tweets the ingredients of their hamburger "Stacker" and the people had to retweet in the same order to earn a free one. The coupons sold out in two hours.
Drive traffic to your website including links in your publications
In this example there is a clear call to action with an attractive discount directed to the Merqueo site.
Follow the 80/20 rule, that your content is 80% useful tips, other people's content, retweets and conversations and 20% direct sales and brand communication.
Examples of brands that do it very well:
1. Bed Bath & Beyond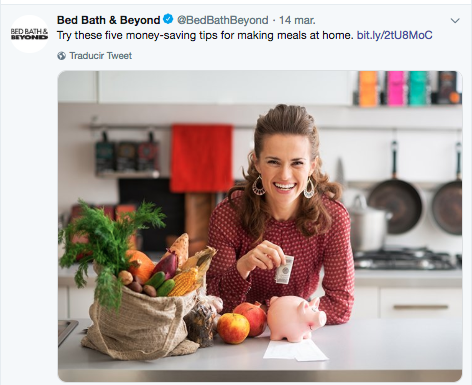 2. Headspace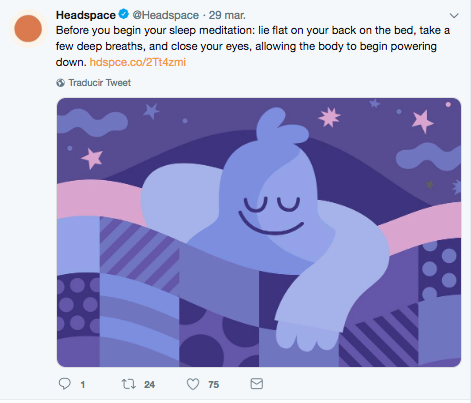 Lean on influencers: this is one of the best ways to promote products online. The key is that it is in a creative and spontaneous way, not that it looks like a script that a brand gave to a celebrity.
For this, look for people that are related to your brand values. Some tools to do it; Commun.it, Little Bird, Buzzsumo, Klear, Kred, BrandWatch, Iconosquare, KeyHole, SocialRank and Heepsy.
Use the chat: take advantage of direct messages to solve your customers' problems, answer questions about your products and get to know them better.
An example of a very creative campaign was the one that Samsung made in Australia offering personalized advice to its customers through direct messages to buy televisions according to their tastes and needs.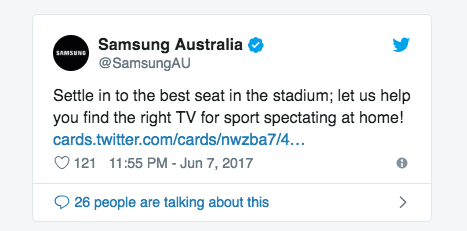 Learn from your competitors: Analyze your competitors, create a list for them. From there you can monitor what kind of content they are tweeting, how often, what formats they use and what reactions their followers have.

Demonstrate the different uses of your products: Include high-quality photos of your products with its various uses.

Have your voice: how is the tone you want to transmit? Try to get out of the flat way many brands speak. How to fight the fear of doing it? Look for examples of successful brands that have achieved it as Burger King Argentina.

Invest in advertising, but avoid wasting money by analyzing the metrics very well. We recommend that you check the Twitter Ads page directly to know which one best suits your needs. However, in general terms these tips do not fail:

You have two seconds maximum to catch the attention of people. Be brief, even 140 characters can be a lot.
Do not abuse emojis and hashtags to fill. Use them if they really make a difference.
Use ideally customized images, not image banks. The text should complement the message, should not be redundant.
Focus on the call to action. Do not be afraid to express directly what you want your users to do: click, download, buy, etc.
Experiment by creating A / B tests in your ads and launching different types of organic messages to observe the reactions of your followers.

Create exclusive campaigns for Twitter: especially on dates like CyberDay or CyberMonday, this will encourage your followers to be attentive to your Tweets.

Follow the tips of Twitter: nobody knows the platform better than their own team. For tips follow your account @TwitterBusiness and listen to his podcast "Character Count" in English, where they interview opinion leaders on various topics related to marketing on this platform.
---
Profile Analytics & KPI'S
You can see all these key indicators by clicking on your profile and then on "Analytics".
Interaction: clicks, retweets, answers or even the number of times the hashtag of a brand was tweeted.

Performance: refers to the reactions of your audience over time.

Growth: Do not obsess about quantity but with the quality of followers, who are people who are part of your stakeholders.

ROI: this is the one that will generate more joys in a company because it measures the conversions of the tweets.
In conclusion, Twitter is the king of news information among social networks, therefore, beyond sharing content, it serves to build and observe what happens in the digital environment of your brand.
And although it seems very attractive, there is no need to recommend that you ask yourself if your potential clients are there.