Install Wheelio
On this page
How does Wheelio work?
Wheelio is a very simple app. When visitors arrive to your store and encounter themselves with an ordinary pop-up window, they don't feel like they will get something in return or that they have a chance to win something in exchange for their email, this is something you can solve with Wheelio.
When they get confronted with Wheelio, they feel like they could have a chance at earning something, which in return makes your proposal a lot more interesting to them.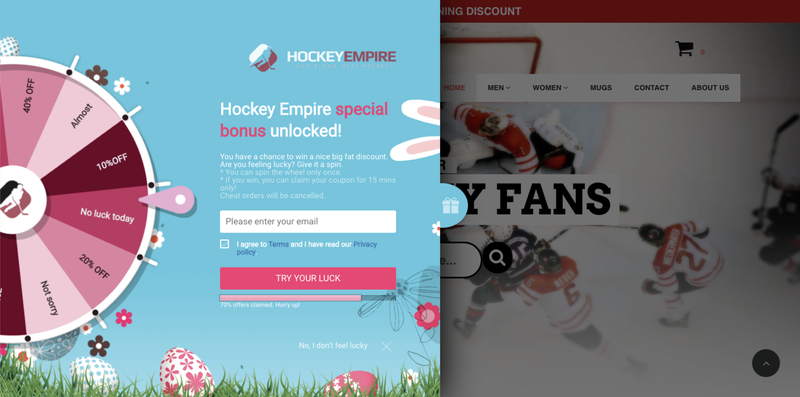 Because acquisition of users is expensive and getting more expensive by the day. It doesn't matter if you use Google Adwords, Facebook or any other ads channel you pay for a user to visit your site. Your end goal is not the visit, but an actual purchase. And if your end goal doesn't happen in the first visit, you are throwing your money away.
If you want to take a look at how it works, please check this demo store: https://hockey-empire.com/
---
How to install Wheelio and Friends in Jumpseller
First you have to create an account at https://dashboard.wheelio-app.com/login.
Once you're registered, you can create a new campaign. Configure it so it matches your store.
Go to your dashboard and click on Setup Instructions. There you can find Jumpseller tab, which contains a code snippet.
Go to your Jumpseller Admin Panel and click on Themes > Code Editor. There you will find a Layout tab.

Go to the bottom of the page and paste our code snippet just before and tags like shown in the image below:

Thats it. Wheelio and Friends will now appear on your store.
---
For up-to-date information on the status of our system and all its services, please visit status.jumpseller.com. You can also subscribe to receive notifications about any updates or maintenance work on the site.