In today's digital landscape, most customers solely look at product photos during their search for the perfect purchase. Whether scouring a bustling online marketplace or e-commerce sites, the initial attraction almost always stems from captivating product photos. In this article, we cover the best practices for taking photos of products and a curated list of tools for editing photos. We'll also discuss which file formats and sizes provide seamless website integration. Lastly, we will end with a list of AI tools that help generate captivating photos and attract customers to your e-commerce site.
Taking Photos and Creating the Scene
Most smartphones have a camera that can produce high-quality photos in automatic mode. They are easy to use and even include diverse settings such as wide-angle lens, night mode, image stabilizer, and more. But here's a helpful tip: Even when using a smartphone, it's best to use a tripod to avoid blurry or crooked photos. Tripods are also useful to maintain consistency when taking the same photo with different setups, lighting, lenses or backgrounds.
Another important element to consider is the background. A plain and neutral background makes a product stand out. For many online marketplaces, such as Amazon and eBay, a clean white background is the way to go. If you're planning on showcasing a more creative background for social media pictures, there are many AI tools that will help generate virtual photo shoots or add colorful backgrounds to the product photos. We'll discuss these further.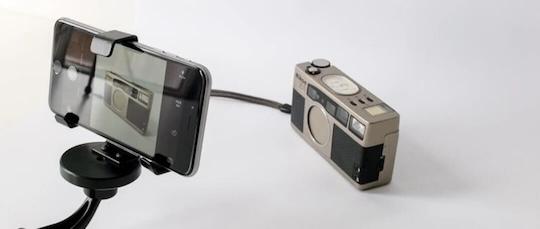 Adjusting the Light for Product Photos
Snapping budget-friendly photos of your product is as easy as making use of what's available, like a smartphone and natural light. Find a spot near a window or a door where sunlight comes streaming in – that's like having a free photo studio. If the sunlight seems too bright and direct on the product, here's a neat trick: grab some white sheets of paper or wax paper then hang it over the window. It'll diffuse the light and seem even over your product.
The best moments for photographs are during sunrise or sunset. That's because the sun isn't too strong then, which means no harsh shadows messing up the shot. When you're inside, remember to switch off any lamps or indoor lights. They can create shadows and give a different color than natural light on your product.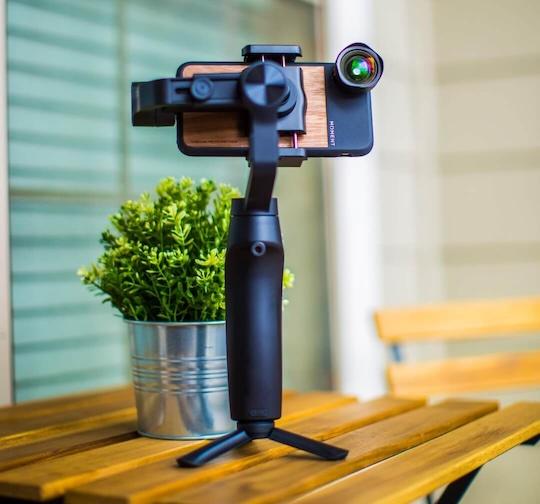 Tripod and lens added to smartphone photography with natural light. (pexels.com](https://www.pexels.com/photo/smartphone-on-tripod-stand-3042453/)
But what if the location isn't all that sunny, or artificial lights are preferred? Well, softboxes are a great investment for product photography. Place a soft box on each side of the product to fully illuminate it.
Framing the Product for Photos
Now that we created the scene and adjusted the lights on the product, let's take advantage of the setup and capture multiple shots of the same product. Think like a shopper: you'd want to see every possible angle of a product before hitting that buy button, right? So, get ready to take close-ups, photos from the side, top, bottom of the product, and if possible, a 360° photo. Showing the product all the way around will help your e-commerce site stand out over the rest.
When framing the product, avoid zooming in to see details. Digital zoom will lower the quality of the image. Instead, use zoom lenses or take a full photo that includes the part you really want to show off. Later, during editing, cut the picture to frame that specific feature.
Editing the Photos for an E-commerce Site
Editing product photos will ensure there's consistency. Start by making sure the product is framed right in the center of the photo – that's like the bullseye of attention. When you're dealing with websites, a square picture works best. It stops your photo from looking distorted when customers view your site on mobile devices.
To get that perfect square for your online store, you have a couple of options. You can either change the picture's dimensions while editing or save it to be around 800x800 pixels in size. Remember, when you save your picture, it's a good idea to go for either JPEG or PNG file formats. Once you're done editing, drop your image onto a site called tinypng.com. It'll keep the image looking sharp, while still making it small enough so that the website doesn't feel sluggish without removing resolution.
Editing Tools & Resources
Don't worry if you're not a pro at editing – there are many user-friendly online tools that will facilitate this process. And guess what? Many of them are free or have a free version! Here's a helpful list of some popular tools and resources for e-commerce sites.
Remove.bg: Free online tool that removes backgrounds from images, similar to Adobe Photoshop's Pen Tool.
Adobe Express: Free Adobe Suite platform for editing and creating images or videos. It includes creative templates and a limited collection of royalty-free Adobe Stock photos, videos, and music. The unlimited premium version costs $10 USD a month.
Pixlr: Free online photo editor, AI image generator & design tool. The free version allows for up to 3 saved images per day and the Premium version includes an unlimited amount. Their Photomash is a great tool for e-commerce products since you can remove and add creative backgrounds to product photos.
BeFunky: This site allows users to edit photos, create graphic designs, and make photo collages. It is also a great tool for resizing images.
Canva: Canva has become very popular over the years since, besides being an image editing tool, it includes templates for any type of project. From all social media formats to presentation slides, infographics, banners, flyers, resumes, and more. Their Premium version gives access to unlimited graphics, royalty-free images, and designs.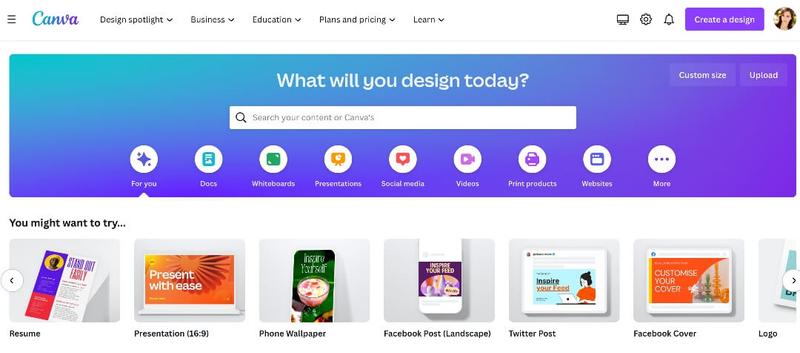 Studio Polotno: Similar to Canva, Studio Polotno is a photo editor, image, and graphic creator. It is completely free and also includes several design templates, designs, and royalty-free images.
Generating Creative Images with AI
Artificial Intelligence (AI) is a real game-changer for e-commerce sites. It's like having a creative assistant who can help attract customers with fun images, catchy product descriptions, and even friendly customer service. So, here's how you can take things up a notch with the help of AI tools. Try uploading the final product photo to the websites we've listed below. These sites use AI to generate backgrounds that match your product, all based on the descriptions you provide. It turns words into images!
Adobe Firefly: Generate images from detailed descriptions or use the brush tool to remove objects or paint new ones. This is a great tool for changing outfits on your models or colors on your products.
Vue.ai: Showcase fashion products on models without a photo shoot.

Blend: Create a customizable and creative background for your product photos. Users will get 10 free designs.
Shot Rate: Once you have a backgroundless photo of the product, you can generate unlimited versions of this same photo with diverse backgrounds and setups.

Breeze.ai: Upload product photos and generate backgrounds. It could be a beach, street, studio and more!
Imajinn.ai: Generate virtual photo shoots for your product photos. Simply upload your product photo, describe your desired background and style, and then generate a creative image for your e-commerce site for free.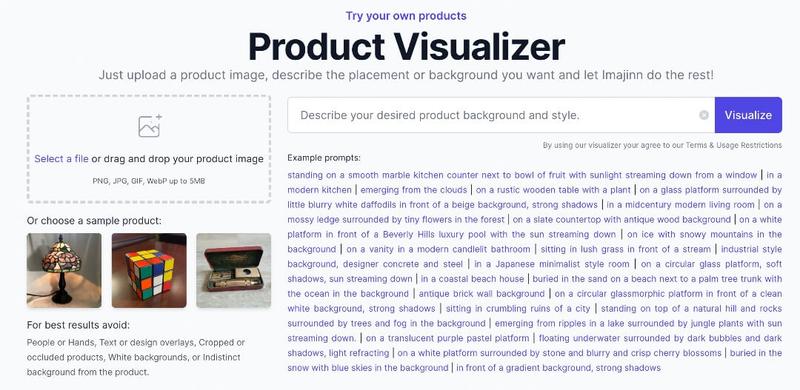 Although most of these sites offer similar tools and resources, their features and capabilities differ. So, it's important to understand your business needs and your market. Understanding these will help you decide which AI system can better help your e-commerce site. Learn how to also take advantage of AI tools for product descriptions with ChatGPT and How It Benefits E-commerce.
Conclusion
There are many aspects of an e-commerce site that business owners need to manage, and product photography has a large influence on the site's growth. Shoppers are mainly driven by images when making purchases. Because of this, it's imperative that the final product photos are captivating. From harnessing available resources and lighting to crafting the perfect frame and editing, these steps lay the foundation for success.
Furthermore, the integration of AI creates infinite creative possibilities for making the products stand out in the crowded online marketplace. So, as you embark on your e-commerce journey, remember that a well-photographed product can attract customers and drive growth for your e-commerce site. If you'd like to read more on how to boost your e-commerce site this article provides tools to increase sales.
Let us know on social media if you found these practices, resources, and tools useful for your online business. If you're looking to launch an e-commerce site, you can launch it today with Jumpseller's free trial!
---
Contact us with any questions or concerns at support@jumpseller.com / Facebook Jumpseller / Twitter @Jumpseller / Instagram @jumpseller