Looking for a new way to engage with your customers? A virtual event might be the perfect solution. Over the long term, and paired with other digital marketing strategies, virtual events can increase a customer's sense of brand loyalty, and can drive repeat purchases!
With an eager audience, you can look forward to more engagement and start to build a community around your products or services. However, just because it's virtual, doesn't mean it's easy. In this article, we'll focus on how to promote your virtual event with a great marketing plan.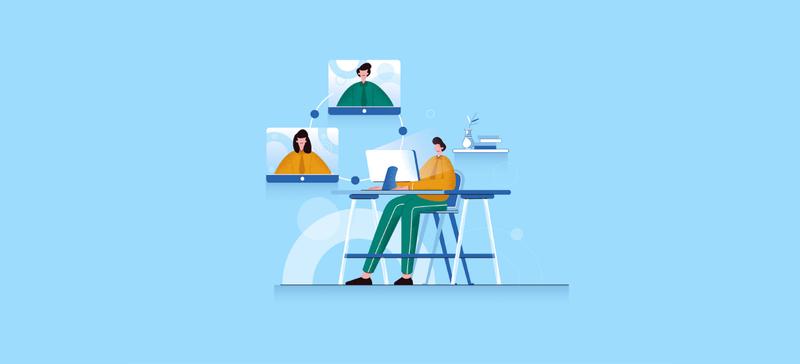 ---
Identify Your Audience
As with any marketing outreach plan, you need to understand your audience. Look over your customers or service-buyers in order to truly understand them. For example, you can send out email surveys to see which customers would be most interested in virtual events, and further segment from there. In determining your ideal personas, look for key pieces of information like:
Demographics
Online Behavior
Motivations / Goals
This information is crucial for any event, and almost every piece of marketing in general! This data will help shape your event platform and the messaging efforts built around the event.
---
Build a Great Landing Page
With the right target audience in mind, it's time to create a stunning landing page! This site will serve as the focus of your event campaign. When building the landing page for your event, make sure to spend extra time researching the best methods for the points below.
Communicating the value of attending the event for your target audience
Setting up a system (MailChimp, HubSpot, Facebook) to capture registration data
Why? Doing so allows you to accomplish some objectives quickly. By creating a landing page, you're able to express what the event is about, and why your customers should attend. Also, by integrating an email-capture survey or sign-up form, you're able to get an idea of the customers who are best fit to use your marketing resources to convert your target audience from "Interested" to "Attending".
Your landing page should include the following:
A descriptive, catchy headline
The set date and time for the event
A brief description of how the event will unfold
An agenda showcasing the exhibitions/talks
A featured sponsor area (if you are taking sponsors)
FAQs
Engaging copywriting, images, and, if you have the budget, a video
By doing all of the above, you will ensure your customers and interested guests will be prepared, and fully understand the value of attending your incredible virtual event.
---
Get Your Timing Right
You wouldn't heavily market your event only on its scheduled date, would you? No! A successful virtual event takes a great marketing timeline into consideration.
Unfortunately, there is no rule of thumb for a perfect timeline. Some organizations start marketing six months before the event, whereas others market only two to three weeks before everything is underway.
Once again, consider your audience. If you're hosting an informal community get-together, you might not need as much time to plan and focus a strategy. If you're hosting a virtual camp or convention, however, you will want to take advantage of your marketing timeline as much as possible.
The good news? You don't need to have everything set up for your virtual event. As long as your registrants are using your optimized landing page, you already have the data you need.
---
Post on Your Website
Let's take a step back: you know the best window of opportunity for your event, and you've got your awesome landing page all dialed-in. You're ready to blast it all over the web, and we encourage it! But you can also leverage the power of your own website to drive even more traffic to your landing page.
For example, feature a hero image, a header, or even an announcement bar that gives any site visitors more information about the upcoming events for your company. Make sure to think of a great selling point for your event, and spark people's interest with copy that prompts action.
If you use Live Chat, make sure to integrate the event into your chatbot. Also, consider using video, as mentioned above, to drum up even more registrants for your event.
---
Leverage Email Marketing
Once you have people registering for the event, you will want to stay in touch to make sure they do not forget about your event. You can let current subscribers know about your virtual event (in case they don't already), and you can message new subscribers/registrants immediately after sign-up with a "Thank You" message.
When exploring email marketing for your event, you will need to think about the following:
Email list recipients
Total emails to be sent
Subject line
Visuals
Body text
CTA (Call to action)
One word of advice: make sure not to over-email. You could see a lot of unsubscribes, which could damage your brand's reputation for virtual events. Ask yourself if you really need to send that sixth email, or if it can be combined with another blast.
---
Get Others to Share
In virtually every discipline, word-of-mouth marketing is a massive pathway to conversion. Reflect on yourself: are you more likely to go to an event your excited friend is going to or are you more likely to go alone? In most cases, people enjoy attending events and trying out recommendations from their friends, so encourage your attendees to spread the word about your virtual event.
Building this into your marketing stack is as easy as giving your registrants a Social Share button after they sign up for the event. Or, you can send them a follow-up email after registration, calling on them to share the event with their friends.
If you have a bit of budget, you can even make a game out of it. For example, a leaderboard with the names of the registrants who have referred people who have converted. You can reward the top three winners with different tiers of prizes, and announce the winners at the event.
Additionally, make sure to encourage any guest speakers, sponsors, and event managers to share with their networks as well.
---
Work the Event into Your Content Strategy
If you have a dedicated blog, your virtual event will make an excellent topic of discussion for your posts. We won't get into the specifics of content strategy or blogging in this post, but you can learn more about establishing a blog for your site here.
If you have the resources, try making content about the speakers, about the topics, and about the event itself. For instance, if your event is about dropshipping watches, you might write a bio about the company presenting at your event, as well as many different content pieces about dropshipping and watches as well. You'd also want to take the time to write up a promotional blog post both before and after the event, and link to the video-recording of the specific session.
Additionally, you can also explore writing a Press Release. It is not a guarantee for traffic or attendees, but it may help generate buzz about your event.
---
Get Social
LinkedIn, Facebook, Twitter, Instagram: all excellent choices when it comes to promoting your event. All your loyal followers will be notified whenever you post something, helping you take some of the burden off of letting everyone know individually. By continuing to post updates, your followers will know the most up-to-date information about your virtual event.
Investigate other social options like Paid Search or Paid Promotions as well, in order to get the most eyes on your content as possible. Just make sure to keep your target personas in mind at every step of promotion!
Your next big opportunity awaits! Get started promoting your virtual event today!