According to eMarketer, global retail e-commerce sales will reach almost $5 trillion by 2021, and will make up 19.5% of all consumer spending. Even before the COVID-19 pandemic, traditional retailers were facing hardship. Digital retailers have been slowly wearing away at traditional retail.
In fact, Amazon alone now makes up more than 5% of all retail sales in the United States. Furthermore, in 2020, more than 11,000 stores were forced to close due to rapidly declining sales.
There's no better time than now to get online. But how can you stand out from the 20+ million existent e-commerce sites?
By implementing a strategy focused on excellent customer service.
---
But Why Customer Service?
Whether you sell products or services, the support you offer customers before and after their conversion can make-or-break your company. Customer service promotes positive brand perception, increased customer loyalty, and more referrals.
But customer service isn't just about being there to help. To be excellent, really think about your buyer, and how to make your store-experience easier and more enjoyable. Great customer service implies deep inventory knowledge, product experience, and on-demand availability to help your customers make better decisions.
Let's take a look at the data.
According to HelpScout, a customer service software company that works with more than 8,000 companies in 140 countries:
89% of buyers stopped business with a company after a negative customer service experience
78% of consumers failed to purchase due to a poor service experience
It is 6 to 7 times more expensive to acquire a new buyer than to maintain a frequent one
By far, the most requested improvement from customers is "better human service"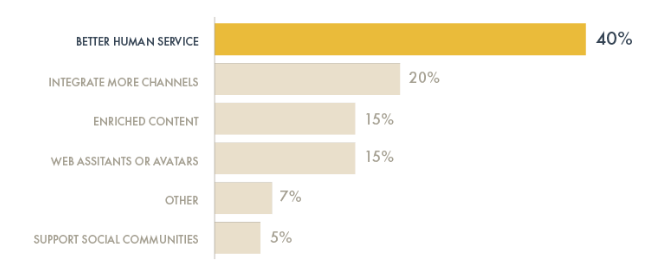 From the data, we can see that the most important feature of customer service is your ability to communicate with your customers, person-to-person!
Let's look through a few communication options to reach your customers. If you're just starting your e-commerce store, pick the channel that suits your customers best, and that you can control.
---
Customer Service Channels
Email
Providing a contact email is the easiest way to get started.
Separate your personal and store email inboxes to avoid replying to important emails with your personal address.
Don't use "contact @ mystore.com" Use a person's name instead. This is more human.
Set up auto-responders to notify customers that their email has been received and will be addressed as soon as possible.
41% of consumers expect an email response in less than six hours.
According to Helpscout, 41% of consumers expect an email response in less than six hours. In fact, 36% of retail stores respond within that time. So, here you have the opportunity to stand out with an agile response time.
Wistia, a software for creating videos, is recognized for excellent customer service. But it hasn't been without hardship! Before switching to email, they had only a contact phone number, and could not sustain the call volume. After moving to email, they have been able to address most concerns and questions in a fast and reliable manner.
Customer support MUST be constant and scalable, in addition to incredible.
Email Tools
Social Media
Social networks have become a mainstay of human relationships, and a strong customer service platform. In fact, Social-scheduling platform Hootsuite posits that:
83% of people expect companies to respond to a social media question or complaint within a day.
Nearly 50% of people expect a response within an hour.
45% of brands take 5+ days to respond to messages through Facebook Pages.
49% never get a response to a social media complaint at all.
30% of consumers share their positive experiences with brands on social networks, while 45% share negative ones.
There's never been a faster way for you to interact with your audience, at such a visible scale! However, make sure to research your market and know where your intended customers/converting customers are spending their time. Some recommendations:
Interview 5 to 10 clients, who represent your ideal customers. Ask questions like: What is your favorite social network? Where do you share content? Where do you look for product recommendations? Which channels do you follow your favorite brands on? And, where do you connect with family, friends and colleagues?
Check which social networks are similar to yours, and have similar customer-bases.
Check which sites contain the most content your potential customers consume, and research where they share posts.
Here are some media trends, based on the report published by the Pew Research Center:
YouTube: 94% users are 18 - 24 years old

Growing in popularity. Ideal for creating educational content about your product, like product videos and reviews.

Facebook: 80% users are 24 - 49 years old

Contains the most users in the world; consumers spend most of their time here.
Advertising is affordable, and reasonable.

Snapchat: 78% are 18 - 24 years old

Millennials first love on social media.
You can sell and advertise here, but take note of Instagram.

Instagram: 71% are 18 - 24 years old

Easily the best platform to sell products via photo and video content.
Instagram Shopping is a platform-specific marketplace for products.

Twitter: 45% are 18 - 24 years old

Widely used by consumer product brands to follow what consumers say about them, and talk to customers.
Most effective for customer support, but you must respond in less than 30 minutes, or you may find yourself exposed to a reputational scandal or bad tweet!
Advertising on social networks? Monitor all comments and respond in public so that people can see that you are listening, answering and resolving issues that arise.
Invite the people in need of assistance to resolve their cases in private channels, like Direct Messages, or Personal Messages.
On Facebook, there is an option to set up automatic replies. If you have an average time to respond, inform your customer. For example: "Hello! Thanks for talking with us. We'll respond within 2 hours."
Social Media Tools
Live Chat
Virtual assistants and virtual partners are always trending in customer service, but they may never replace the quality and accuracy of a human assistant.
We expect more than just programmed responses or robotic conversations. We need a customer support specialist to follow our problems and needs. Live Chat stands out as the most powerful communication tool of all! It's intimate, easily-accessible, almost-instant, and delivered at no-cost.
A recent survey showed that Live Chat has the highest level of customer satisfaction. Of the 24% of surveyed consumers who have used this medium, 73% said they were happy with this experience.
Communicate when Live Chat is available, in your app or on your site
Offer the possibility for the customer to send messages offline
Change your wording. Avoid saying things like: "I don't know." Instead, answer: "Great question, I will find an answer."
Have a list of FAQs answered on a page in your store, and direct your customer to them if their concerns are basic.
At Jumpseller you can integrate the Powr.io application that allows, among other features, to include a FAQ section on the pages you want.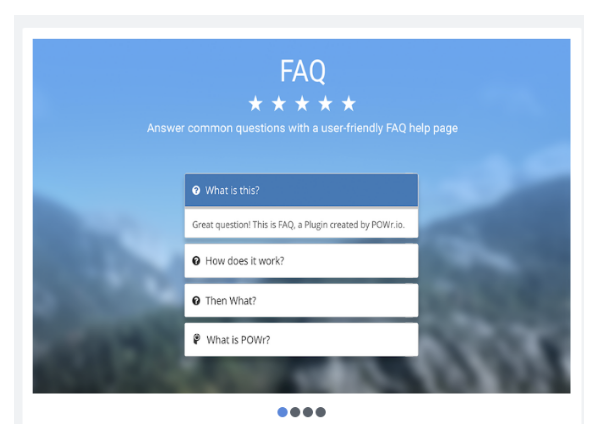 Live Chat Tools
Phone Support
For many customers, a simple phone call can make all the difference. If your customer is dealing with a complicated problem, can you imagine their relief when they hear a friendly voice ready to help?
Know your products and your policies. If a customer suspects they are more of an expert than their customer-service operator, you may lose a sale.
Take time to get to know the person you are dealing with, so that you can empathize with the problem you are trying to solve.
The more expensive the product, the more a customer expects to speak with someone.
Organize your website based contact priority. Do you prefer phone, or email? For example, if you want the phone to be the last option, leave it at the bottom of the home page, somewhere else, or do not list it at all.
Don't be rigid about policies. Sometimes you have to break the rules. You're working as a human serving another human, not as a machine.
In fact, breaking the rules can have an extremely positive effect on business.
Consider a story out of Pennsylvania, US. An old man was unable to leave his home due to heavy snow, and his daughter was concerned that he did not have enough food.
After calling many stores in search of one that would deliver, the man's daughter connected with the staff at Trader Joe's. They explained that given the circumstances, they don't deliver. But they decided to make an exception for this man and her daughter.
The order was delivered free-of-charge, and in just 30 minutes!
Can you imagine the long-term effects this story has on customer loyalty? A store owes its service to its customers. Giving flexibility to meet customers' needs (within reason) Phone Support Tools Don't want to offer up your personal phone number? We don't blame you. Here are some helpful tools to get started with phone support.
Phone Support Tools
Help Desk
A strong Help Desk strategy will assist in organizing your customer service requests, and offer options to more independent buyers. For example, perhaps you have a large buyer who prefers a phone call. Maybe you have customers who are more intuitive and like to do what they can for themselves. Your Help Desk is your company's customer service command central!
Build a portal in your online store that has a forum where users can ask and answer each other, a contact area and FAQ.
Make sure you have a process in place to deal with a high-volume of customer support concerns.
Take a look at the Jumpseller Help Center.
Help Desk Tools
Customer service is the secret weapon of e-commerce. And, an established online presence can help you hone your customer service skills. It's essential for effective, unified, and diverse communication channels.
Limited resources? A contact form and support email is your bare minimum. Take a look at ours!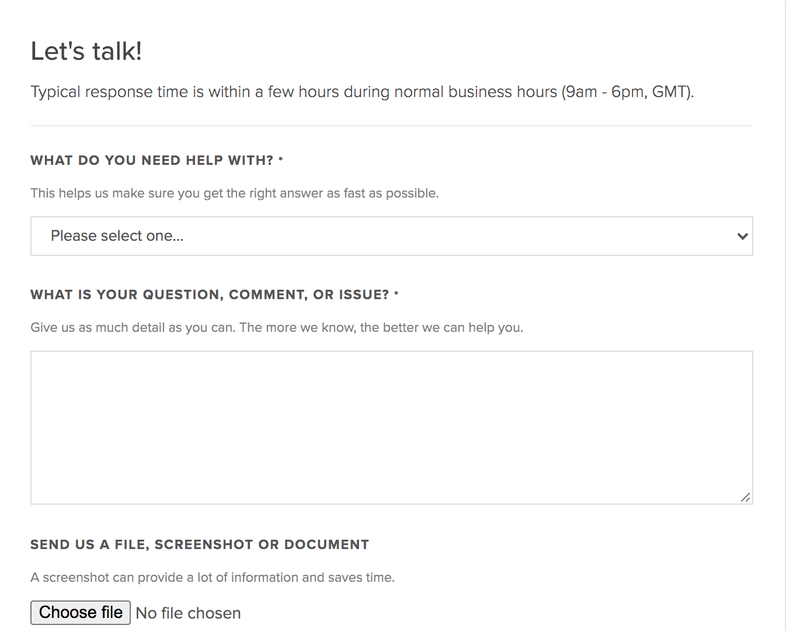 If all else fails, don't be afraid to get creative. Many people give second chances with the promise of great service. Even in the most competitive businesses, companies can stand out among their competition by offering excellent customer service.