How to add a Blog to your Store
On this page
To promote your website organically and to rank higher on search engines, blogging can be an extremely effective tool if done the right way! With a Jumpseller store, you have an option to use the "Built-In" Blog feature. This feature can be used with all themes and works as a part of the store instead of being an extension.
---
Built-In Blog
When creating your store, you will find the pages Blog and Blog Post in the Pages section of your administration panel.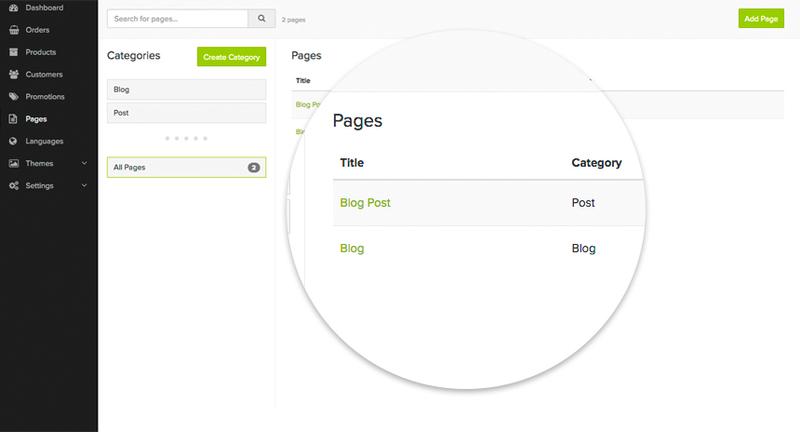 The "Blog" page
This page will contain all your posts. Here you can write a brief description of your store's blog. It is important that you always have the Blog Category and the Blog Theme selected.
Important: You must always have a page with the Blog Category and the Blog Theme assigned. Without this page or without the category, the blog will not work correctly. If you deleted the category or blog page that came pre-established, create them again.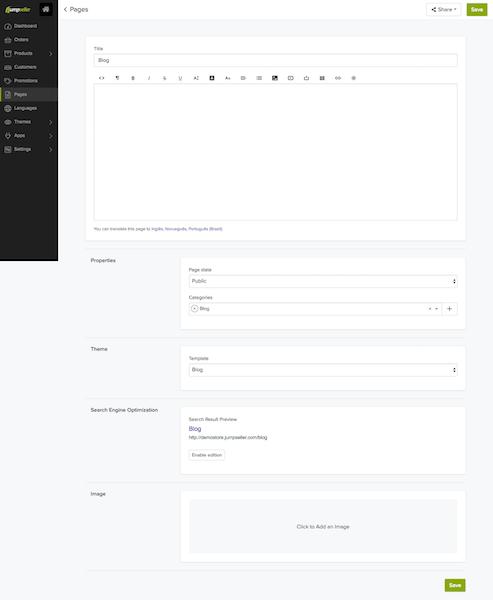 Add publications to my blog
To add posts to your blog, you must go to the Pages section of the admin panel and click Add Page in the upper right corner.
Your blog posts should be assigned the Post Category and the Post Theme. Otherwise, it will not work correctly.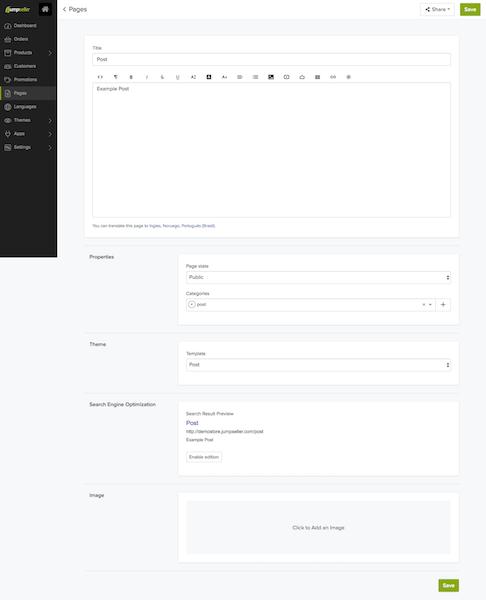 Add a featured image to your post
You can add a featured image to your publications, for this you must click in the section image at the bottom, and select from your computer the image you want.
If your pages are with the correct category and theme, they will look like this: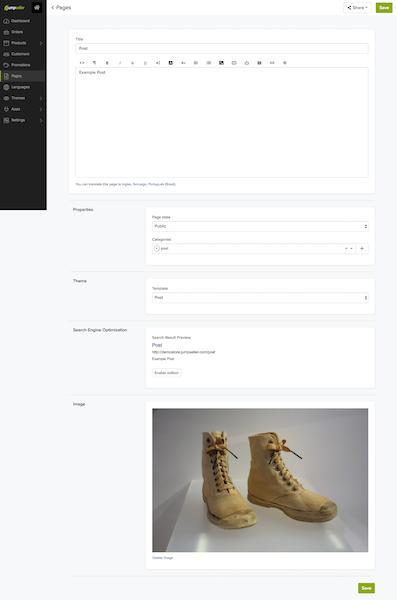 ---
FAQs
¿Why my blog is not working?
Make sure you have created the page categories called "Blog" and "Post" (if you do not have them, then create them).
You must also have a page called "Blog" with the blog category assigned and the blog theme assigned (this is essential for the entire blog system to work). If you do not have it, create it.
Then to each page that is going to be a post, you must assign the page category "Post" and the theme "Post" .
---
Integrating an external Blog
If you already have a Blog on an external platform to Jumpseller, you can still link it to your Online Store.
Go into your admin panel and enter the Navigation section under Themes.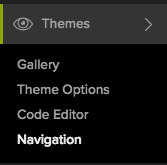 There you will see Blog listed as a menu item by default (might not be visible if you removed it in the code editor beforehand), and you can click on it to show some input fields.

From the drop-down menu of Link Type choose External Url. Paste the Url in the next bar and name the menu item as you wish. If you would like your blog to use your Jumpseller store's domain name, you'll need to use a subdomain.

You can choose to always open this in a new window when clicked or not.
Once you save the changes and visit your store, you will see the Blog button has been linked to your external Blog.
If you have any questions about this or any other topic, please don't hesitate to contact us.
---
For up-to-date information on the status of our system and all its services, please visit status.jumpseller.com. You can also subscribe to receive notifications about any updates or maintenance work on the site.